A rough guide to some Tucson's area attractions

Arizona Daily Wildcat
October 9, 1998


Send comments to:
city@wildcat.arizona.edu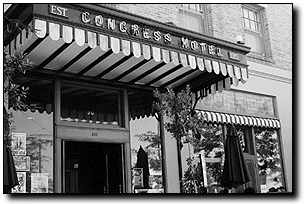 Jennifer Etsitty
Arizona Daily Wildcat

Hotel Congress is centrally located in downtown Tucson on 311 E. Congress St. Hotel Congress offers the Cup Cafe, a tavern lounge, and a night dance club - Club Congress.


So, your parents are coming to town for Family Weekend, and they want to see just how you spend your time away from home. Now's your chance to show Mom and Dad that Tucson is more than just a dusty little desert town, but a city with museums, art, cool theaters and a hip downtown area. Get out of that dorm room and put on your best tour guide face, because there's plenty for you and the folks to see and do.
On campus arts and events
During Family Weekend, hour-long walking Campus Tours will depart from a special "Tour" booth on the UA Mall Friday and Saturday at 10 a.m., 12 noon and 2 p.m. Show your parents all those special places you go to study - or avoid studying - on campus. The Arizona Ambassadors will provide historical and architectural information about the campus along the way. Tours are free.
If you opt to explore the Uni-versity your-self, there's plenty to do and see. Spend an afternoon some of the campus museums and galleries you're normally in too much of a hurry to notice.
The University of Arizona Museum of Art, located in the Fine Arts complex at Speedway Boulevard and Park Avenue, has a large permanent collection which includes works by well-known artists such as Mark Rothko, Georgia O'Keefe, Jackson Pollack and Elizabeth Vigeacute;e Le Brun.
UAMA also features temporary exhibitions; currently on display is an exhibition by UA Art faculty members.
The museum is open Monday through Friday, 9 a.m. to 5 p.m., and Sunday, noon to 4 p.m. The museum is closed Saturday. Phone 621-7567.
The Center for Creative Photography, one of the few museums in the world that exclusively concentrates on photography, is located across from UAMA in the Fine Arts Complex. Open Monday through Friday, 11 a.m. to 5 p.m., Saturdays and Sundays, noon to 5 p.m., the Center features a permanent collection, archives of photographers that include the artist's entire body of work, a photography library that is available for research, and exhibitions. Phone 621-7968.
"Comparative Concepts," currently up at CCP, documents five German photographers of the New Objectivity movement, which was an important precursor of Modernism.
The Arizona Historical Society, located at 949 E. Second St., features artifacts spanning from the conquistadors to post-WWII baby boomers. Their exhibits depict how life in Arizona has changed over the years. The Historical Society is open Monday through Saturday, 10 a.m. to 4 p.m., and Sundays from noon to 4 p.m. Phone 628-5775.
Current on-going exhibitions include: "The Arizona Rough Riders," "Geronimo and the Chiracauah Apache Experience," "Welcome to Tucson," "Exploring 1870s Tucson," and "Lines Drawn in Sand And Water: Postcards of the Mexican-American Border."
The Arizona State Museum, located just inside the UA main gate, at Park Avenue and University Boulevard, has a large collection of Indian artifacts, and themed
exhibits which focus on ancient and native history and the indigenous societies in and around Arizona. The State Museum is open Monday through Saturday from 10 a.m. to 5 p.m., and Sunday noon to 5 p.m. Phone 621-6281
On exhibition at the State Museum are "Paths of Life" in the North Gallery, and a photography exhibition, "Visions and Voices."
Downtown
Hotel Congress
311 E. Congress St.
622-8848
With more than 75 years of history to its name Hotel Congress is one of the most beloved historical sites in the city. Since opening as a stopover for weary railroad travelers in the 1920s, the Hotel has served as a saloon, poker hall, ballroom and hideout for the John Dillinger gang, who managed to escape during a fire which destroyed the Hotel's third floor. Today, you can read all about John and the gang in a series of informative plaques which hang in the 2nd floor lobby.
Today, Congress is a hotel (each room is restored to it's original condition, with antique furniture and no TVs), a bar (The Tap Room is a favorite among old cowboys, artists and college students), and Internet Cafe and a nightclub. The Cup Cafe, which joins the lobby and spills outside with patio tables, serves wonderful, fresh vegetarian and gourmet entrees from 7 a.m. to 1 a.m., seven days a week.
Definitely worth checking out.
Congress St. between 4th
Avenue underpass and Granada
Congress Street is one of the oldest avenues in the Old Pueblo, and the turn-of-the century buildings which line the street are a constant reminder of the past. Today, the street is lined with cafes, restaurants, toy shops, antique stores, vintage shops and the occasional street musician. For a little childhood regression, check out the fun stuff at Yikes Toy Store (306 W. Congress St., 622-8807) or peruse the work by local artists at Dinnerware Gallery, 135 E. Congress St., 792-4503. The Grill On Congress (100 E. Congress St., 623-7621) is always open for vanilla cokes, milkshakes and a hearty dose of nostalgia. No matter where you choose to stop on this happenin' boulevard, the colorful downtown locals and cultural variety guarantee an entertaining time.
The Screening Room
127 E. Congress St.
622-2262
With showings of rarely seen documentary, art and foreign films, The Screening Room is a unique venue for films which might not otherwise make their way to a big screen.
Or, a kind of big screen. True, you won't mistake your Screening Room experience for a trip to IMAX, but you just might broaden your cinematic horizons.
Recent Screening Room events and showings include the documentary "Arguing the World," revivals from classic directors like Hitchcock and Fellini, and a Latin American film festival.
Most Screening Room operations are handled by UA Media Arts students, and the space is the headquarters for the annual International Film Festival, held in the spring. Admission to films is $4/$3 for matinees.