Tucson Food

Arizona Daily Wildcat
October 9, 1998


Send comments to:
city@wildcat.arizona.edu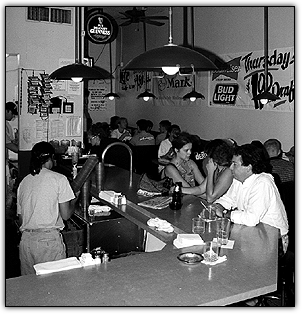 Wildcat File Photo
Arizona Daily Wildcat
Can't find a place to eat? We'll help
Bison Witches Bar & Deli
326 N. Fourth Ave.
740-1541
Open 11 a.m. to 1 a.m. seven days a week. Kitchen closes at 10 p.m.
In the mood for a cheap lunch, tons of food, and Tucson's best sandwiches? Then Bison Witches is the place you want to be. An appetizing sandwich, bag of chips and bowl of soup for $5.50. The atmosphere is intimate and the service customer-friendly. The selection of sandwiches and soups (served in delicious, homemade bread bowls) is amazing. They even have a vegetarian selection. For those who aren't in the mood for a meal, sit at the bar with a drink and listen to the entertaining music. The popularity of Bison Witches always creates a waiting time, so arrive early!
Caruso's Restaurant
434 N. Fourth Ave.
624-5765
Open for dinner 4:30 p.m. to 10 p.m. Tuesday through Sunday; Friday and Saturday 4:30 p.m. to 11 p.m.; closed Monday. Reservations recommended for large parties.
Don't miss Caruso's, a traditional Italian restaurant located conveniently close to campus. The neon chef in the sign beckons passers-by to the quaint outdoor patio and the creatively decorated dining rooms, where 360-degree murals of Venetian landscapes await. Rule of thumb: You can't go wrong with a place that offers lots of garlic bread!
El Mezon Del Cobre, Fine Mexican and Seafood Restaurant
2960 N. First Ave.
791-0977
Open 11 a.m. to 9 p.m. Sundays through Thursdays; Fridays and Saturdays, 11 a.m. to 10 p.m. Live Mariachi music in the evenings.
As the name denotes, El Mezon Del Cobre offers a good variety of Mexican seafood with an authentic Mexican taste, including shrimp, lobsters and oysters, from Guaymas, Sonora, Mexico. As you walk through the large wooden doors of the restaurant, you are greeted by a friendly wait-staff and lively music. The intimate inn-style atmosphere is warm with copper tooling and wooden art adorning the walls. Most entreacute;es range in price from $7-$15 and the deserts are $3.50. The steamed fish and flan are among the excellent offerings.
Sinbad's Restaurant
810 E. University Blvd.
623-4010
Open 11 a.m. to 9 p.m. Monday through Saturday. Closed Sunday.
A desert oasis in itself, Sinbad's tile floors and tables provide a fitting setting for the satisfying Greek fare.
A chicken shawerma, shish taouk or falafel sandwich won't hurt your wallet, and their larger platters satisfy your hungrier side. Service is fast and friendly, and they know how to wrap a sandwich so it doesn't fall out of the pita bread.
Cushing Street Bar & Grill
345 S. Meyer Ave.
622-7984
Open 11 a.m. to 11 p.m., Monday and Tuesday; 11 a.m. to 1 a.m., Wednesday through Friday; 4 p.m. to 1 a.m., Saturday and Sunday.
Located in the beautiful Barrio Historica downtown, Cushing Street offers a wide variety of continental and gourmet dishes and a full selection of beer and wine. The restaurant is housed in an adobe dwelling built in 1856, and whether you opt to sit in the main room, with it's high ceilings and wooden floors, or outside on the Spanish patio, the ambiance is a perfect compliment to the fresh and creative cuisine. Try the spinach potato pancakes as a unique sidedish to any one of the excellent fish or pasta main courses. The friendly, attentive service staff is always willing to make recommendations. It's called classy.
Govinda's Natural Foods Restaurant and Boutique
711 E. Blacklidge
792-0630
Open 5 to 9 p.m., Tuesday; Wednesday through Saturday, 11:30 a.m. to 2:30 p.m. and 5 to 9 p.m. Closed Monday.
Govinda's offers herbivores a wide selection, while supplying the omnivore with a unique and satiating dining affair.
As for ambiance, Govinda's serves the delicacies in one of three places - an incense-tinged dining room with enough mirrors to keep your chi content, a more traditional room in which shoes are not worn and the diners seat themselves on the floor, and seating outside.
The fare is served in what might be described as "classy buffet style," (Govinda's did win "Best Fine Dining" in Tucson Weekly's esteemed "Best Of" issue in 1997) for a modest fee. Dinner costs about $9. Senior citizens or ID-bearing students pay only $8.
But these healthy alternatives are not at the expense of taste or variety. Encounter lasagna, tofu, a variety of East-Indian cuisine, and occasionally pizza (often in non-dairy varieties) that will leave you stuffed, and satisfied.
Zemam's
2731 E. Broadway Blvd.
323-9928
Open 11:30 a.m. to 2:30 p.m. and 5:30 p.m. to 9 p.m. Tuesday through Sunday. Closed Monday.
Nestled inside a house smaller than some college apartments, Zemam's offers an intimate atmosphere and an entirely new dining experience. Served in traditional Ethiopian style, community is the main emphasis. All food is brought on a single tray with a smaller plate of pancake-style breads (injera) on the side. No plates are provided, or silverware. This is dining for the adventurous, the versatile and the socially aware. Tucson, being a desert, would like to thank Zemam's for wasting no water washing extraneous dishes. The menu features 10 exotic and flavorful dishes which can be mixed and matched to accommodate both carnivore and herbivore. The restaurant has no liquor license and features a limited beverage menu. Bring your own liquid and they will supply you with an appropriate vessel.
Miami Tropical Cafeteria
1045 E. Sixth St.
623-8020
Open 11 a.m. to 8 p.m. Monday through Saturday. Closed Sunday.
Ready to trek south? You will find yourself in a fairly unaesthetic little hole in the wall with some of the most fabulous authentic Cuban grub in town. For about the same price as the Fig's variation of a gyro (cubed meat in a pita), you can get enough black beans and rice to last three meals. That is merely the side dish. Top that off with a thick helping of ropa vieja or (if you're so lucky to find it on the specials) calimari, and you've got yourself a fine excuse for siesta. Wash it down with a fruit smoothie (mango, papaya, guanabanana) and end the meal with some killer kahlua flan.
Them's good eats.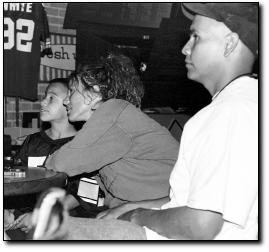 Tanith L. Balaban
Arizona Daily Wildcat
Mike Ramirez (right) watches the Packers vs. Vikings game on the television at Carlos Murphy's Monday, Oct. 5, while his wife Gia tells son Christian, 7, the finer points of football. Carlos Murphy's Restaurant is a Mexican American bar and restaurant on West Congress.
Sakura
6534 E. Tanque Verde Rd.
298-7777
Treat yourself. Go ahead, you deserve it - you've been surviving all semester on Ramen and cigarettes. Now it's your turn to eat like a king - or like your parents. It's time for Sakura. Nestled in the swanky digs of Tucson's restaurant row, Sakura beautifully brings together two staples of yuppiedom: sushi and sports. Sakura has been on the Tucson scene forever as the best place to chow on raw fish or get a traditional Japanese meal made before your eyes. Then a year ago, the restaurant expanded its horizons - and its building - to include a high-class sports hangout. It's not very big, but you can't look anywhere in the bar without a television in view (22 in all). Sakura also makes up for the lack of space with a patio, complete with ultra-chic - and therefore uncomfortable - metal chairs. The sushi is the cheapest way to eat, but with daddy and mommy warbucks in town feel free to sample the complete menu. The standard (and safe) California sushi roll runs around $3, while the actual meals range between $11-$30. The menu is rich with variety, from chicken and vegetables to filet mignon. And if you're really brave, you'll slam a few titanic-sized sake bombs with your folks, for a mere eight bucks. Get there early, Sakura is a popular spot, especially on game days.
Carlos Murphey's
419 West Congress St.
628-1956
Margaritas and football.
It's not a traditional mix, but if you go to Carlos Murphey's, you should definitely give it a shot.
The margaritas come in all sorts of flavors and all the ones I've tried, ranging from peach to raspberry, have been tasty.
The "traditional" Mexican-Irish restaurant also has an expansive beer and food selection, but the fajitas are the best item on the menu.
They've got 14 televisions, so there's always a good vantage point to watch the game and
there's a DJ for music during the commercials.
It's a relaxed atmosphere, so there is a lot of family-type clientele. If you have no interest in football and you don't feel like eating while people are clapping and yelling at the game, they have the place split up so there aren't any televisions in half of the restaurant. They also have plenty of food for kids so if it's a full family meal you're looking for, this place fits the bill.
For those people who are interested in biggest game to take place in Tucson this decade and want free food, they will be giving away hot dogs, burritos, nachos, vegetable trays and more during the game. There isn't a happy hour on the weekends, so no drink specials.
The place is pricey, with margaritas going at $4 a piece and the appetizers costing more than that , but if you can afford it and you are either downtown or feel like heading there, Carlos Murphey's would be a wise selection.
Bob Dobbs' Bar
& Grill
2501 E. Sixth
Street
325-3767
Bob Dobbs' Bar & Grill is probably not the kind of place you want to take someone on a first date. It's not a fancy place by any stretch - graffiti from previous patrons adorns the walls, some of it unfit for purer eyes; heavy wooden picnic benches provide the eatin' and drinkin' areas, unless you've opted to belly right up to the bar.
It's called The Bob, and it's two small patties, grilled in perfect seasonings and with more than a hint of garlic and Worcestershire sauce, then topped with two slices of yummy cheddar cheese. Tastes just like it came off the grill in your hometown backyard, except it's better. For $4.96, you get The Bob and a huge pile of crispy french fries with the peels still on.
Bob Dobbs' also offers chicken sandwiches, salads and even a vegetarian offering for the non-carnivorous - the tomato, avocado and cheddar cheese sandwich will run you $4.50.
And there's more to Bob's than eating. There are many sports programs to be watched on any one of the seven TVs which hang near the ceiling in this unique, octagon-shaped establishment. And yes, there is drinking.
Beer prices range depending on your pleasure - a pitcher of domestic draft beer costs $4.50 during regular hours, $4 at happy hour; pints of bass and other imports run $3.50 during regular hours, $3 during happy hour, while pitchers are $8.50 and $8, respectively.
Bob Dobbs' isn't a huge sports bar, the kind you find on Restaurant Row or on Fourth Avenue.
It's a cozy, comfortable, neigh-borhood kind of place which sits almost unnoticed in the middle of the Sam Hughes neighborhood, one of Tucson's more popular residential areas. You can bet they'll be broadcasting the UA game on Saturday - just one more reason to stop in and check out Bob Dobb's.