Rally attacks Likins' decision to stay in FLA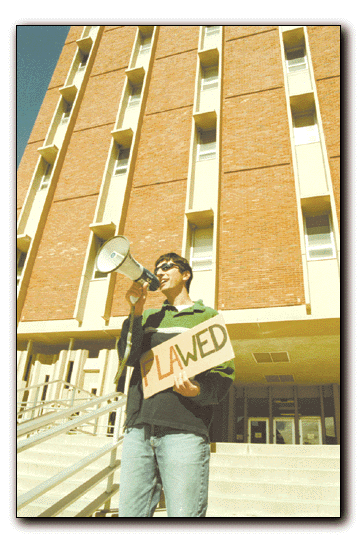 Aaron Farnsworth
Arizona Daily Wildcat
Philosophy graduate student Avery Kolers speaks to fellow protesters outside of the UA Administration building Thursday. Students Against Sweatshops held their protest in hopes of promoting the Workers' Rights Consortium.
Over the course of the past two weeks, the Fair Labor Association has taken a pounding on college campuses across the nation.
Anti-FLA activities continued yesterday in front of the University of Arizona Administration building, where the UA chapter of Students Against Sweatshops staged a rally to vocalize their support of the Workers' Rights Consortium.
"Likins has said that he's been waiting for an alternative," said John Hardenbergh, an SAS member and a political science senior. "Well, Peter Likins, we have an alternative and it's a damn good one."
They draped an SAS flag over the building's "administration" sign and chanted loudly with hopes of having the administrators on the seventh floor - where UA President Peter Likins' office is located - hear them and come down to watch.
Likins is in New York until Monday.
"Workers rights, we defend, sweatshop labor has to end," the demonstrators chanted.
Demonstrators displayed several cardboard signs proclaiming one word -"FLAWED."
At 12:30, the rally drew about 20 people, but that number quickly tripled as the group leaders began making speeches to the demonstrators and other students began watching from the UA Mall and the Modern Languages building.
Avery Kolers, SAS spokesman and philosophy graduate student, told onlookers about a story of a boy named "Pete" and a long wait for his friend, the FLA.
"They're not coming," Kolers said. "So he can sit around for another five months or he can do what any rational person would do. Get out of the FLA."
Several speakers said Likins hindered the UA's anti-sweatshop stance.
"College has been called our fantasy land," Hardenbergh said. "Our fantasy land is being financed by sweatshop labor."
Likins made the UA a founding member of the FLA prior to the sit-in and has consistently stated a commitment to end all UA connections to sweatshops.
"I am personally committed to improving labor rights conditions worldwide," Likins stated in a letter to SAS Wednesday. "I will continue to review monitoring alternatives as they arise, and I will evaluate the program objective to determine whether it is worthy of the university's support."
Some UA officials visited the rally, including university attorney Mike Proctor and Dean of Students Melissa Vito.
While Vito said she was pleased to see students take action on issues, she said, she's opposed to another sit-in.
"I hope they try to work through other means, like the task force," Vito said.
The demonstration comes on the heels of UA President Peter Likins' denial of SAS's request that the university immediately withdraw from the FLA.
Likins also stated - by letter to SAS - that he intends to follow the resolution he signed last April that allows the UA to remain a member of the FLA until August 2000. At that time the matter of which monitoring system the UA will endorse - the FLA, WRC or other alternative - will be decided by the Human and Labor Rights Task force.
The letter also states that he would like to address possible changes in the resolution through compromise instead of a forced situation.
"I hope you share my conviction that the only way that these commitments can be revised is through mutual acceptance of proposed revisions," Likins stated.
Likins also stated that SAS's actions are inconsistent with their acceptance of his April commitments.
On Tuesday, a United Students Against Sweatshops' sit-in was successful in getting the University of Pennsylvania president to withdraw Penn from the FLA for an interim period.
Sit-ins continue at the University of Michigan and at the University of Wisconsin-Madison.
Protesters at the University of Wisconsin-Madison were pepper sprayed by police Wednesday.
SAS members say they haven't decided their next move.
Rachel Wilson, SAS spokeswoman and psychology graduate student, said some members of SAS have been trained in non-violent disobedience and they may be "getting really creative."
UA officials have taken preliminary measures to keep a sit-in from culminating in Likins' office. The elevators no longer go to the seventh floor, and the door leading into the lobby from the stairwell is locked.
The rally concluded at 1:20 p.m. with scattered chanting.