Tucson mayor says high-tech jobs will boost economy at UA forum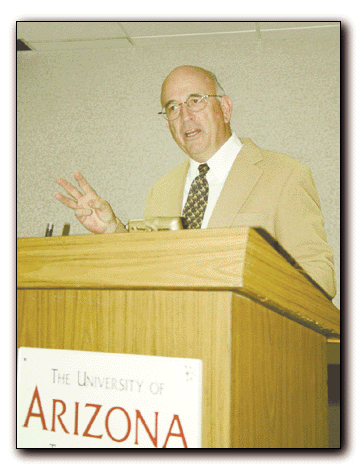 Aaron Farnsworth
Arizona Daily Wildcat
Tucson Mayor Bob Walkup talks at the mayoral forum in the Tucson Room of the UA Memorial Student Union. This forum was put on by the UA College Republicans, who hope to introduce students to politics at the local level.
Tucson Mayor Bob Walkup visited the UA campus yesterday with a vow to improve Tucson through economic development.
The first annual mayoral forum, sponsored in part by the University of Arizona College Republicans club, drew about 40 people to a casual dialogue with the mayor.
Walkup, whose professional background is in aeronautics, said cultivating an aerospace industry in Tucson would greatly benefit the city.
"To me, the airport is the key to what is great for this community," said Walkup, who worked with aeronautics in Iowa before coming to Arizona. "This (Tucson) is a better place to be."
Walkup said he has a goal to create 10,000 high-technology, well-paying jobs for the local work force. Adding these jobs would help combat hunger and poverty, improve infrastructure, and better the lives of Tucson's young people - both children and college students - Walkup said.
"I will always do what's best for Tucson - I guarantee it," he said.
An economic boost would not only help the Tucson population as a whole, but also UA students.
"What do we do to keep our young people in Tucson?" Walkup asked. "I've had young kids in my life, and I know what some of their motivations are."
Walkup said the promise of good jobs and affordable housing are vital to retaining the youthful population drawn by the UA. Even though the mean annual income for Tucsonans is $27,000 - Walkup said the average house costs $114,000.
Seth Frantzman, UA College Republicans president, said he was excited about the event's turnout. Frantzman anticipated even more people would attend future mayoral forums, which he pledged to hold every year.
"Next year 60, the year after that, 3,000," Frantzman said. "I want to do this again next year, and the year after that and the year after that."
"It's time for our university to get involved in local politics," he added. "I think it's such a good thing for students to see that their mayor cares about them."
Adam Clark, a political science junior and College Republicans secretary, said he was most interested in Walkup's aim to bring high-technology work to Tucson.
"It was nice that he talked about bringing in the high-tech, high-paying jobs because that's what out city needs," Clark said.
The forum was also sponsored by the Republican Club of Tucson, the UA Office of Community Relations, the Young Democrats club, and the Hillel Foundation.