Directors hope for more diverse ASUA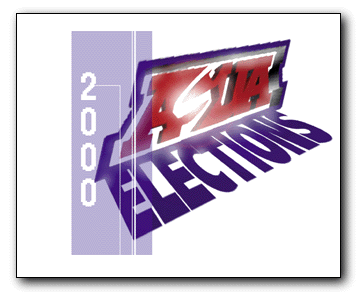 Wildcat File Photo
Arizona Daily Wildcat
Some multicultural program directors are concerned that unless more minority students run, ASUA primary elections will begin Feb. 29 with only seven minority student candidates.
Gloria Monta█o, Associated Students elections commissioner, said only five of the 19 candidates for Senate are minority students.
"I didn't go out just for minority outreach because my personal goal was to bring in people regardless to whether they were in ASUA already or if they were a minority," she added.
Monta█o said out of 63 elected and appointed members, ASUA currently has 21 minority students.
Directors of the University of Arizona's four minority student centers said they feel a bit discouraged about the low rate of students running for ASUA Senate this year, but will try to recruit more student applicants.
"This is traditional tribal land that the university is built on," said Bruce Meyers, director of Native American Student Affairs. "I've been here five years and I haven't seen any Native American senator in ASUA so it's time for a change."
The UA reported the population of all undergraduate minorities in the fall of 1998 was about 25 percent of the total undergraduates. Only about 21 of 6,513 minorities were in elected and appointed positions in ASUA, Monta█o said.
Alex Wright, director of African American Student Affairs, said leadership positions, namely those in student government, are imperative to student progression.
"We should have leadership that supports African American students because then, they go out and become leaders on this campus," he said.
Wright also said that ASUA representation of minority students is important to broaden the knowledge of minority issues.
"I think that it's extremely important to have minorities represented in the Senate because there are lots of issues on campus," Wright said. "Minority students bring a different mix, a different perspective to the table so it's critical."
Unlike Wright, some directors said knowledge of minority issues would be sufficient in ASUA representatives.
"We're not going to make a big deal that we didn't pick a minority," said Mai Luc, interim coordinator of Asian Pacific American Student Affairs. "If someone feels they can do it and be representative and know they are a visible candidate, they should do it."
Luc added that she does not think a student has to be a part of a minority student center to be helpful to minorities, but the student must be aware of minority student issues.
"If the student government is out to help or make a difference, I think they need to take into consideration the minority centers by talking to the students and director," Luc said.
Armando Valenzuela, coordinator for Chicano-Hispano Student Programs, agreed but said a need for minorities still exists.
"I think the people that undertake this responsibility of being senators and representatives of the student population should be aware of all the issues, not just the ones they are concerned with," Valenzuela said.
Valenzuela also said he didn't think elections should be "a popularity contest or something you do just for the heck of doing it."
He said students should be passionate about their positions and believe in the difference they can make.
"I think it's imperative that if anyone expects to have a say in the direction that the University of Arizona is going in reference to students, they have to make an effort to get involved in that decision making process," he said.
Fuji Collins, director of Asian Pacific American Student Affairs, agreed while noting the importance of minority student participation.
"Leadership is important, but if we are trying to become good consumers of our culture, I think it's important to have people of different color and diversity throughout student government," he said.