UA student's photos explore the night's dance subcultures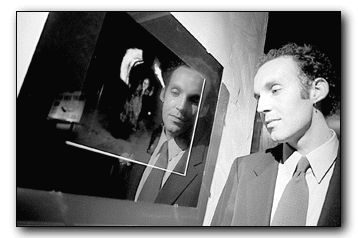 Arizona Daily Wildcat
Photo by: DANIEL KEMPNER
Photography junior Aaron Abott reflects on one of his photographs from his exhibit, "Dancing with Light," documenting the performances of Flam-Chen, a fire-eating dance and performance art group. This exhibit was a part of Abott's "Nocturnal," a collection of photographs exploring the teenage rave scene, opened Saturday night at 840 Gallery.
Aaron Abbott's nighttime photographs of ravers and performance artists capture intimate scenes that compare and contrast ideas of passion and pain.
The exhibition at 840 Gallery, 840 S. Sixth Ave., features two narrative series: "Nocturnal" and "Dancing with Light."
"Nocturnal" explores the teenage rave scene using a primarily documentary approach.
Abbott, a photography junior at the University of Arizona, said that as a teen, he was attracted by the glamour of the rave scene. In this more mature work, he takes a more subjective lens, exposing the good and bad.
"A couple of these are glamorous but, really, they're pretty dirty," Abbott said. "I was trying to get nitty-gritty. I wanted to stay away from being completely glamorous."
The photographs are presented in a continuous cycle, creating a fluid transition from one image to the next.
"In a situation like this, it's about the experience, about the body itself, not necessarily each individual piece," he said. "The works relate to each other in sequence."
Abbott's use of color flash photography and long exposure exploit the brilliant colors of rave fashion, as well as capture motion and patterns of dance.
The photographs evoke a sense of bodily architecture with their deep contrasts.
"For a long time, I was a diehard black and white photographer. I felt that color photography was just for snapshots," Abbott said. "But I really found it exciting working in color.
"I think black and white is great for different subjects, but for this one I had to do color," he said. "It really was a necessity. I think there's a lot of options that aren't realized because so many people are on this black and white high horse."
The works possess the energy of motion - but the photographs hardly glorify the raves. The photographs document kids on bad drug-induced trips, show drug deals and people detached from their physical selves.
"I cannot control this," Abbott said. "For the most part, that's how my style of photography is. I love photojournalism, and I love documentary more than anything. I love capturing life as it happens and finding the photos, as opposed to creating the photos. For the most part, that's what this is about."
Abbott says he wants his show to fuse glamour and grit, seeing his photography as a natural progression from the genre of street photography.
Abbott wants the photos in this series to generate social awareness, but he does not intend to place his own opinions on viewers.
"I really hope that people don't see this as a glamorous body of work," he said. "I hope it opens people eyes to what's going on a little bit. My mission as a photographer is to open people's eyes to certain aspects of life - certain aspects of society that they might not be able to see."
A smaller accompanying exhibit, "Dancing With Light," documents the performances of Flam-Chen, a fire-eating dance and performance art group. Abbott says these pieces are less about social awareness than about beauty.
"I just love these," he said. "I think that it's a beautiful, very elegant body of work. They're very delicate."
The two series dialogue with each other - what is presented as performance and artistry in "Dancing With Light" relates to the activities of "Nocturnal."
Abbot said the ravers and Flam-Chen performers both relate a realism to viewers, whether intentional or not.
"They both are performances in the way that they are expressed and the actions that people take," Abbott says. "In 'Nocturnal,' the teenagers want people to see them, and they want people to see them glamorous and beautiful. I would like people to see the association between the two, I definitely see very similar things going on here."