No Woods, no problem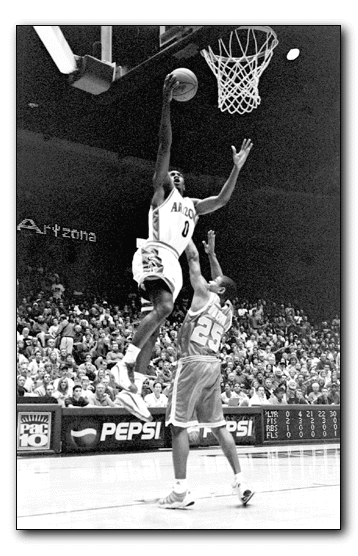 Aaron Farnsworth
Arizona Daily Wildcat
Freshman guard Gilbert Arenas goes up for a layup Saturday afternoon during the Wildcats' 99-84 victory against the Bruins. The win allowed UA to keep pace atop the Pac-10.
The last time the fourth-ranked Arizona Wildcats played with only six scholarship players, the LSU Tigers handed UA an 86-60 loss, the worst since head coach Lute Olson started roaming the sidelines in Tucson.
The Wildcats (23-4 overall, 12-1 in Pac-10) were once again forced to play with only six scholarship players on Saturday afternoon, as junior center Loren Woods sat out with back spasms.
This time, though, the "Scholarship six" turned into the "Total 10" as all UA players dressed and available to play saw time in the Wildcats' 99-84 demolition of the UCLA Bruins (13-11, 4-8) in front of 14,532 at McKale Center.
"Everybody knew that if Loren wasn't going to play today, everybody had to bond together, step up their game and play hard, and that is what we did," UA sophomore forward Michael Wright said. "We came out and played great defense in the first half, opened up the game and cruised to a victory."
Wright played a big part, scoring 22 points and pulling down six rebounds. He also did it on the defensive end against UCLA's sophomore forward Jerome Moiso, who was held to only five points and four rebounds.
"I had to step up my game because Loren is a big part of the offense and defense. I just put it upon myself to take it to them, be patient and go with the flow," Wright said.
Along with Wright's solid play, UA was once again ignited by its freshmen guards - Gilbert Arenas and Jason Gardner.
Batman and Robin, as they dubbed themselves earlier in the season, combined for 39 points on 12-of-22 shooting. Gardner also added 11 assists and seven steals, while Arenas pulled down five rebounds and was hot from the free throw line, hitting 10-of-12.
"We were just going out there playing hard, attacking the rim and attacking their big man because we didn't have ours today," Arenas said. "It was a team thing today. We just had to go out and play even harder than we usually do."
Even more impressive from the stripe was junior forward Justin Wessel, who started for the injured Woods.
Wessel was a perfect 10-of-10 from the free throw line en route to a season-high 12 points before he was forced out of the game due to a nose injury.
The Wildcats were able to jump all over the Bruins from the start, shooting 51.7 percent from the field and 90 percent from the free throw line in the first half, leading 51-30.
Contributing to the large margin at half-time was the defense that Wright and Wessel played on Moiso and the other UCLA big-man, sophomore Dan Gadzuric.
Moiso and Gadzuric combined for only five first-half points, while Gadzuric was forced into early foul trouble with three in the half.
Gadzuric did find his touch in the second half and finished the game with 17 points and nine rebounds. The high-scorer of the game was UCLA freshman forward Jason Kapono, who scored 27 points.
Olson is now giving the Wildcats three days off, which should be ample enough time for Woods and the rest of the team to heal any injuries and rest before they face Arizona State on Saturday afternoon.