Death in a small town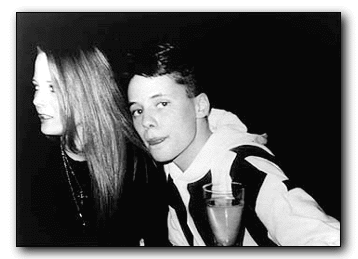 Arizona Daily Wildcat
Photo courtesy of Videodrama Brandon Teena, sitting here with his girlfriend Lana Tisdel, was a transgendered woman who was raped and killed by two men in Falls City, Neb. His life and death are detailed in the documentary "The Brandon Teena Story."
Before Hillary Swank received a Golden Globe for her portrayal of Brandon Teena in the recently released documentary "Boys Don't Cry," the real Brandon Teena was faced with transgendered issues including homophobia, violence and hatred.
In "The Brandon Teena Story," which debuted last month, filmmakers Susan Muska and Greta Olafsdottir interviewed people who knew Brandon before his death on Dec. 30, 1993.
"We spent four years doing this," said Olafsdottir. "We got to know the community really well. We didn't just go there, we lived there."
Muska said because of the nature of the crimes, their investigation was a delicate matter.
"We treated people as we expected to be treated, not constantly pumping them for information. We tried to learn a lot," she said.
Born and raised as Teena Brandon in Lincoln, Neb., Brandon's looks became increasingly androgynous. Although biologically a woman, Brandon wanted to be referred to as a man.
In time, he started to dress and act like a man and began dating women. Few people in town knew that Brandon Teena was really Teena Brandon.
He could not, however, get a job legally and resorted to stealing checks in order to survive.
But the filmmakers chose not to dwell on this, focusing more on the positive aspects of his life.
"We are very fond of Brandon," said Muska. "In regards to the forgery charges, we tried to look at the whole picture. His whole way of trying to live would have been destroyed if he tried to hold a regular job."
Since people in Lincoln had learned about Brandon's lifestyle, he moved to Falls City, Neb., a small town where unemployment, prejudice and domestic abuse were common.
Muska admitted to the homophobic attitudes present in Falls City, but said she and Olafsdottir experienced few problems.
"We were accepted for who we were, and people treated us well," she said. "That came from spending so much time there."
Also in Falls City, Brandon met John Lotter and Tom Nissen, the men who would eventually be arrested for his rape and convicted in his murder.
On Christmas Eve, 1993, Brandon attended a party, and later that night, Lotter and Nissen drove Brandon to an empty field.
Nissen raped and beat Brandon - Lotter was unsuccessful in his rape attempt.
Six days later, while staying at a farmhouse in Humboldt, Neb., Lotter shot and killed Brandon, Lisa Lambert and Philip Devine at close range.
Nissen also stabbed Brandon to "make sure she was dead."
Though talking with the two killers was hard for the filmmakers, Muska and Olafsdottir included their side of the story in the film.
"The interviews with Nissen were the most difficult," said Muska. "He was evasive and squirreled out of the questions."
Overall, the filmmakers said the experience was arduous but fulfilling.
"Once we got involved, it was never a question," said Olafsdottir. "The interviews were moving and intriguing."
In addition to talking to Lotter and Nissen, the filmmakers also spoke to his mother and sister, as well as townspeople who knew Brandon closely.
"All the people reacted differently," said Muska. "The Humboldt people put it behind them; Falls City has its own share of different kinds of problems and Lincoln is no stranger to violent rape and murder."
The documentary has won awards at film festivals in Berlin, New York and Toronto, and was released on DVD and VHS on Jan. 25.
"Our first screening in Falls City last November was emotional, but the most rewarding of all," said Olafsdottir.
Though the documentary has not received the same attention as the movie of the same name, Muska tried to look at the important issue.
"It's good that the public is aware about what really happened," she said.