Visiting writer to speak on poet Bishop's visual talents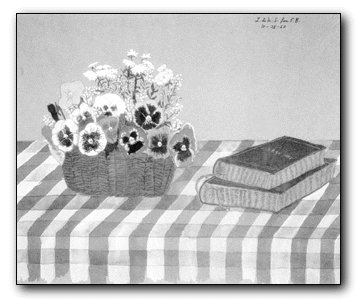 Arizona Daily Wildcat
PHOTO COURTESY OF UA LIBRARY Elizabeth Bishop's watercolor painting "Pansies" represents her candid realism. William Benton will be lecturing on Bishop's paintings tomorrow night at 8.
As part of the UA Poetry Center's Visiting Poets and Writers series, prominent writer William Benton will lecture tomorrow night on poet Elizabeth Bishop's lesser known talent - her visual artwork.
Benton said the reading will give "a broader sense of how to triangulate Elizabeth's position in the real world of art."
He added that such positioning has caused much controversy among art and literary communities.
Some consider Bishop - predominantly known only for her poetry - to be an amateurish painter unworthy of attention.
While her paintings, done primarily in watercolor, gouache and ink, are thought of as simple and even crude, Benton believes Bishop's works are "quite sophisticated."
"Some dismiss her art as a result of drawing badly, but people have been working very hard at drawing badly in the last century," Benton said "She knew a great deal about art. Her paintings have a diary-like intimacy. (They) build a world out of the simple, intimate occasions of her life in a very candid and direct manner."
Benton said Bishop's poetry worked in much the same way. She was said to have written like a painter, and in a sense, she painted like a writer.
Her works were painted on small sheets of paper as if she were composing a poem.
Benton became involved with Bishop's artwork after attending a seminar in Key West revolving around the poet's work.
As it turned out, no one had heard of any artwork by Bishop, so Benton was asked to compile an exhibition for the seminar.
He tracked down the rarely seen works through vague leads. Most works were found in the possession of Bishop's friends, who had received them as gifts.
Benton managed to put together a sizable collection of about 40 paintings for the Key West seminar. He said that perhaps 40 more works exist, but are either lost or are only slide reproductions.
In 1996, Benton's book "Exchanging Hats" was published, featuring all of Bishop's known artwork with commentary by Benton and an introduction describing his ordeal in acquiring them.
Benton said the purpose of tomorrow's lecture is to reconcile the controversy over Bishop's artwork - addressing the critics who consider her an amateur painter while others who praise the primitive nature of her works.
"People can't quite decide how she fits, especially in the literary community," Benton said. "(The lecture) will discuss her paintings in relation to the traditions, currents, and sensibilities that make up the whole art world."
Benton will speak tomorrow at 8 p.m. in the Modern Languages auditorium. The event will also feature slides of Bishop's paintings, followed by an informal reception. Attendance is open and free to the public.