UA needs to improve in several areas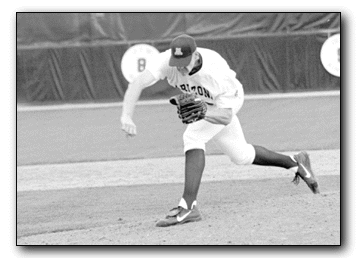 Eric M. Jukelevics
Arizona Daily Wildcat
Sophomore pitcher Ben Diggins follows through on a pitch against St. Mary's (Calif.) earlier this season. The Wildcats lost two of three games this weekend to Texas A&M in College Station, Texas.
In Friday's 4-1 victory against Texas A&M, sophomore pitcher Ben Diggins accomplished a rarity in college baseball - a complete game. The sophomore right-hander went the distance, holding the Aggies to one unearned run on six hits. Diggins struck out nine batters in the outing.
Diggins' complete game marked the first such feat since senior Mike Crawford blanked ASU in last year's season finale in Tempe.
UA returns home to Sancet Field on Friday to take on No. 16 Tulane in a three-game weekend series.
For Stitt, the series will be a chance for the Wildcats to test their mettle against a ranked team. However, Stitt is not pleased with the way his club is playing.
"We need to improve all phases of our game," he said. "Our pitching is sporadic at best, and our defense is inconsistent - they're good one day and bad the other. We're supposed to be relying on defense to help us out.
"We've got to get our defense more solid out there," he said. "More of our pitchers need to work on getting good command out there."
On the season, Stitt is also frustrated with the one thing he cannot control -fans. In last weekend's trip to College Station, UA was treated to consistent crowds of 5,000-plus people. Not that they were very supportive of the Wildcat cause.
"There were a lot of students out there. They were organized too, doing lots of things in unison," Stitt said. "They're very good at ragging."
The Wildcats were consistently hazed by the Aggie faithful.
Last Wednesday's game against Texas A&M at Corpus Christi was supposed to mark the return of left-handed pitcher Rob Shabansky. The senior, who missed all of last season following Tommy John elbow surgery, was slated to start his first game for the Wildcats since the operation.
However, Shabansky was scratched just prior to game time due to stiffness.
"Rob had a tough time getting warm," Stitt said. "He just couldn't get loose." According to Stitt, missing one start will not damage Shabansky's comeback attempt.
"It (shoulder stiffness) happens from time to time," Stitt said. "We just would like to see Rob out there for us. He's one of our seniors."
Although he has yet to start a game, Shabansky has pitched fairly effectively in middle relief appearances. The lefty retired three Aggies in order on Sunday, striking out a batter in the process.
The senior is the winningest Wildcat pitcher in the 90s.