Late Weekend Recap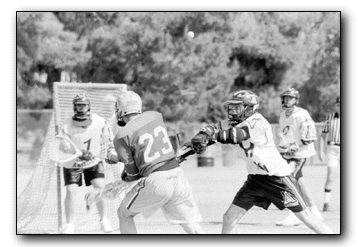 Casey Dexter
Arizona Daily Wildcat
Freshman midfielder Brian Moore applies defensive pressure to a University of California at Santa Barbara opponent two weeks ago. The Laxcats sit atop the Division A South with a 2-0 division record.
Laxcats beat Bruins in division match-up
The UA Laxcats continued their run for a Division A South championship in the Western Collegiate Lacrosse League with a win over division opponent UCLA in Los Angeles.
"With the win we are another step closer," head coach Mickey-Miles Felton said. "The good news is we are favored in the rest of our division games."
The Laxcats jumped out to an early 3-0 lead in the first quarter. The goals continued to come in the second quarter as the Laxcats went into halftime with a 6-1 lead.
In the third and fourth quarter, the Bruins seemed to wake up as they went on an 8-2 run led by Matt Hill, who scored four goals in the game.
"They came out fired up in the second half," Felton said. "They had a really good momentum swing."
The Laxcats stepped up the offense late in the fourth quarter and took the lead back from the Bruins with a goal at the 2:19 mark by Chris Mastores. The Laxcats finished out their scoring with late goals by Bryan Moore and Blane Lochridge with 12 seconds and seven seconds remaining, respectively.
The Laxcats won the game, 12-9.
The story for the Laxcats offense was that Jeff Cady, Bruce Lane, Nate Schmidt, Mastores and Lochridge all scored their first goals of the 2000 season.
"Matt Wilkens, who is our leading scorer, was double and triple teamed the whole game," Felton said. "The rest of the offense picked up and nine out of 12 players scored goals in the game."
The win puts the Laxcats on top of the Division A South with a 2-0 division record and a 2-1 record overall.
"It was nice to see us win when the team was not playing their best," Felton said. "We still have a lot of room left for improvement."
The Laxcats take on Division III Bates College on Friday at 7 p.m. at Wildcat Field.
- Maxx Wolfson
Rugby team sweeps conference foes
The Arizona Rugby team swept both San Diego State and the University of San Diego last weekend to keep their conference championship dream alive.
"By winning both games this weekend, if we win our next three conference games we should be able to tie or win the conference outright," head coach Dave Sitton said. "Right now we are in the position that we control our own destiny."
On Friday, the Wildcats (5-3, 4-1 in conference) beat their rivals San Diego St., 35-28.
The Wildcats trailed by five with 10 minutes remaining in the game when senior Josh Allen scored to tie the match. Four minutes later, junior Rob Penny scored the game-winning try to put the Wildcats up for good.
"We have two reasons to be pleased with the win," Sitton said. "The series between us and the Aztecs has become our most heated rivalry and the win lets us to continue to control our own fate in the playoffs."
On Sunday, the Wildcats beat another SoCal Conference opponent, the University of San Diego, by a score of 51-20.
Allen continued his great play by scoring four tries in the match.
"Josh has been a force that has had made other teams difficult to contain him," Sitton said.
The Wildcats play UCLA on March 3 and California St. Long Beach on March 5. There is a good chance that for the first time this season, the Wildcats will be able to start their whole line-up.
Senior fullback Chris Kron, will make his return for Arizona against UCLA after three weeks overseas, where he was playing in an international tournament.
- Maxx Wolfson
Women's tennis stumbles while returning to Pac-10 play
Returning to Pacific 10 Conference play, No. 21 Arizona lost a heartbreaker, 5-4, to No. 41 Oregon on Sunday, snapping a two-match winning streak. The Wildcats (6-2 overall, 1-2 in Pac-10) were introduced to new settings on Sunday, playing both on the road and indoors for the first time this year.
"Playing indoors is a totally different situation because there isn't any wind, the court's different and you see the ball differently during the match," sophomore Lindsay Blau said.
In singles play, Blau from the No. 2 position upset Monika Gieczys, ranked No. 65 nationally, in straight sets, 6-4, 6-1. Blau was pleased with her impressive victory.
"She was a tough opponent, and I was surprised to see her return more balls than I expected," Blau said.
No. 1 seed junior Michelle Gough improved to 13-8 overall (2-1 in Pac-10) while dismantling Alina Wygonowska 6-3, 6-1. Head Coach Brad Dancer said he is excited to see Gough have an opportunity to move up in her new ranking.
"Michelle is a good enough player to move her ranking back up with this season's experience," Dancer said.
Coming into the match, UA was shorthanded as freshman Uzma Kahn and sophomore Laresa Marino were each scratched from the singles lineup. Kahn is suffering from a sore wrist and Marino has a sprained ankle.
Each player is expected to practice lightly this week.
However, Dancer doesn't want to dwell on these injuries.
"It's a difficult loss for us being shorthanded with injuries," Dancer said. "Being without Uzma and Laresa hurt us, but we shouldn't use that as an excuse."
In doubles play, Arizona won two out of three matches.
No. 15 nationally ranked Blau and Gough (19-8, 2-1) were victorious 8-3 over Sarah Colistro and Gieczys and, senior Vanessa Abel and junior Joanna Buczkowska earned a tough 8-6 victory from the No. 2 position in the doubles lineup.
This closed the Ducks' lead significantly, but Oregon (3-4, 1-4) was able to hold off the surging Wildcats.
"Being down 4-2 going into doubles play is a tough hole to climb out of," Dancer said. "Their doubles lineup has three very solid teams."
Arizona continues on the road, facing cross-state rival, No. 9 Arizona State on Saturday.
- David Stevenson