Global domination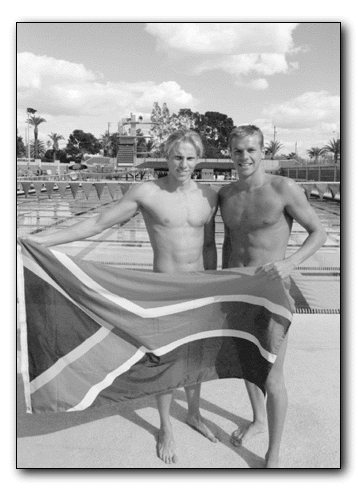 Aaron Farnsworth
Arizona Daily Wildcat
Sophomore Roland Schoeman, left, and senior Ryk Neethling display their South African pride yesterday at Hillenbrand Aquatic Center. Both swimmers will represent South Africa in this summer's 2000 Olympics.
Calling Ryk Neethling and Roland Schoeman decorated Arizona athletes would be an understatement.
Neethling, a senior, is an 12-time All-American on the UA men's swimming and diving team and a seven-time NCAA Champion. He was the 1998-99 NCAA Swimmer of the Year after winning the 200- , 500- and 1,650-yard freestyle events at last spring's championships.
In his freshman season last year, Schoeman earned All-American honors in six events. He also set a new UA record in each event he competed in - 50 freestyle, 100 freestyle, 200 freestyle relay, 400 freestyle relay, 200 medley relay and the 400 medley relay.
Now, the two swimmers are in training for the 2000 Olympics in Sydney. But they won't be wearing the red, white and blue.
Sydney Bound?
Both came to UA from South Africa - Neethling from Bloemfontein and Schoeman form Pretoria. In April, they will head directly from the NCAA Championships in Minneapolis to South Africa, where they will attempt to qualify for the Olympics.
Ten years ago, the thought of competing for their home country was only a dream for both men, as South Africa was banned from international competition because of apartheid.
But in 1992, the ban was lifted and South Africa was permitted to participate in the Olympic games in Barcelona. In 1996, Neethling was able to make his dream come true in Atlanta.
"Since I was 8 years old, South African athletes were not allowed to participate in the Olympics," Neethling says. "Walking in the opening ceremonies brought out all of my emotion. All of my hard work paid off. All of the pain and suffering was over and I made it."
"It's wonderful when you have a dream like that come to fruition."
This time around, however, Neethling is going to concentrate more on the atmosphere of the Olympics rather than the business side of the event.
"Who cares if you don't win an Olympic Gold medal?"
But Neethling is not shy about expressing his intentions.
"Every time I swim, I swim to win," he says.
Neethling, who finished fifth in the 1,500 and 10th in the 400, will swim the 200 and the 400 free relay in addition to the two other events.
Sydney will mark the first Olympic games for Schoeman, who is ranked No. 1 in the world in the 50 free.
Schoeman knows he is a marked man.
"I know that everybody has painted this huge target on my back," he says.
These days, things are looking optimistic for both swimmers. But this wasn't always the case.
A Fresh Start
Before coming to Arizona, Neethling had surpassed the highest level of competition South Africa could offer him. There simply weren't enough quality swimmers to push him to get better.
Neethling was recruited by Michigan, Tennessee and Southern California, but eventually decided on Arizona because of head coach Frank Busch and the fact that there weren't any South Africans on the team.
This, he says, offered him a new start where few knew anything about him.
Neethling, who is well-known for being a trash-talker, was immediately pushed by the Wildcat swimmers, especially Chad Carvin.
"Chad Carvin kicked my ass every day in practice and he let me know about it," Neethling says. "That's how I practice every day now."
After two years at Arizona, Neethling was back in South Africa in April of 1998 for the South African Nationals when he met Schoeman.
After competing in an event, Schoeman was approached by Neethling who asked him about coming to Arizona. This was a first for Schoeman who was not recruited by any U.S. coaches.
"When I first saw him swim, I knew he was good," Neethling says. "Coaches said he did not have it, but I knew he had what it takes to become a great swimmer."
This made Schoeman's decision a lot easier because he had a fellow countryman to help him go through the transition smoothly.
"Ryk had a big influence on me coming to Arizona," Schoeman says. "I knew that he could help me through the transition of coming from South Africa. He went through everything I was going to go through, and it was just nice knowing I could have someone to help me through it."
The two quickly found solace in each other's company, partly because they could speak Afrikaans - their native language - and be understood.
Differing Personalities
Though the two enjoy each others company, Schoeman and Neethling differ drastically in their preparation methods for meets.
"I just stick to my own thoughts and psyche myself up by being quiet and visualizing," Schoeman says.
Neethling uses vocal methods to get motivated for a race.
The methods worked last summer for Neethling as he swam in Australia and upset the Australian version of Michael Jordan - Kieren Perkins - in the 1,500 free. During the race, every television network interrupted its regularly scheduled programs just to show the race.
After defeating the Australian legend, Neethling was dubbed by a reporter as the "most hated man in Australia."
"After my victory last summer, reporters were treating me like royalty and people on the street kept running up too and asking if I was the one that beat their swimming legend," he says. "I felt like I had just dunked over Jordan."
While he might be hated Down Under, Neethling has done just about everything possible at Arizona, becoming the schools most decorated athlete. Add Schoeman, who wants to leave UA in two years as the world record holder in the 50 meter long and short courses, to the mix and the result is a South African gift for the swimming program.
"Their impact is unbelievable," Busch said. "Four years of Ryk has elevated our program by setting the standard for our team to work for. Roland has kick-started our relay teams. He has single-handedly taken our relays to new and exciting levels."
Wildcat sports editor Brett Erickson contributed to this story.