Get the puck outta' here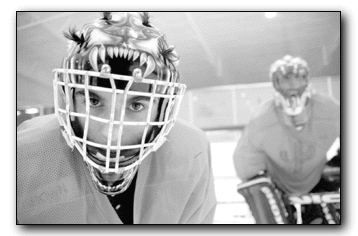 Matt Heistand
Arizona Daily Wildcat
Senior goaltender Mark Meister, left, and sophomore goaltender Jason Morgan after practice yesterday. Meister and Morgan lead the Icecats into the American Collegiate Hockey Association national tournament Mar. 2-4.
Being a hockey goaltender takes a special kind of attitude.
The ability to face shots racing through the air and stop them takes skill and years of practice.
Goaltenders have quickly become one of the highest profile positions in sports.
It was at an early age when both senior Mark Meister and sophomore Jason Morgan decided to join this unique group.
"When I was younger, I always liked the way goalies looked in their equipment," Morgan said. "The mask paint, the pads, that is what drew me to it."
Meister, 22, felt it was more of a calling to play in between the pipes.
"Playing hockey when I was four or five years old, I just slowly gravitated towards the net. Next thing you know, I am a goalie."
Meister, in his last season as an Icecat, transferred from Villanova before the start of last season, after the school dropped its Division I program.
Morgan, 19, took the more conventional route, deciding on the school after visiting Tucson.
Coming to the University of Arizona to play hockey provides a unique opportunity for goalies, as Icecats' head coach Leo Golembiewski was a former netminder with the NHL's Chicago Blackhawks.
Both players insist the coach's knowledge of the crease has made them better goalies.
"He is always trying to show us what it takes to be a great goalie," Morgan said. "I take it as a compliment when he gets on us."
Golembiewski believes that his experience helps him understand the trials and tribulations a goalie goes through in a season.
"Having seen it all before in front of me for years, because I have been there and done that." he said. "We have a great situation because it is very seldom that you have two talented goalies that you can rotate."
As understudies to Golembiewski for the past two years, the hard work has begun to pay off for both Morgan and Meister.
This year, the two have started every game and have played all but 36 minutes in goal for Arizona.
With a combined 21-2-2 record, and a goals-against average of just over two per game, Meister and Morgan together could boast of being one of the top goalies in the American Collegiate Hockey Association.
This is the first season in the history of the Icecats that the team has used a regular goalie rotation.
Junior defenseman and co-captain Tyler Brush believes each has skills comparable to no other goalie in the ACHA.
"Mark has played with Villanova so he brings that to the table, and Morgie is quick and tough to beat on the breakaway," he said. "The best thing about the two of them is that they are so good that there is no clear cut number one."
Brush and the rest of the defensemen work hard at stopping shots, but facing more shots isn't necessarily a bad thing as far as the two goalies are concerned.
"I want them to shoot on me, I am hoping for more shots," Morgan said. "I just stay confident and imagine myself stopping the shot."
Meister concurred.
"It is tough to stay focused when you don't have shots," he said. "Great defensive stops in front are always welcome, but facing a lot of shots keeps you mentally in the game."
As Icecat fans can attribute, opposing goalies at the Tucson Convention Center are regularly berated, and rival teams' fans are eager to return the favor.
The harassment from an opposing crowd is used as an advantage by the two netminders as it pushes them to focus more on the game.
"When fans get on you, it makes it more of an intense game for me," Morgan said.
Meister agreed.
"It is fun to play in a hostile environment," he said.
The duo can expect no support from the North Dakota fans when they travel to Minot on Mar. 2-4 for the ACHA Tournament .
With the possibility of playing on three straight nights, the luxury of having two top goalies is a decisive advantage for the Icecats.
The tandem has taken the team to new heights this season and plans to lead the Icecats as they face Wisconsin-Whitewater and Michigan-Dearborn in the first round of the tournament.
Both opponents are familiar to Meister and Morgan, having faced the teams last season.
The chances of the Icecats repeating its 1985 national championship may rest on this tandem.
And the two of them wouldn't have it any other way.
"If you doubt yourself, you are going to have shots go in," Morgan said. "I just try to stay confident."