UA wins Arizona Invitational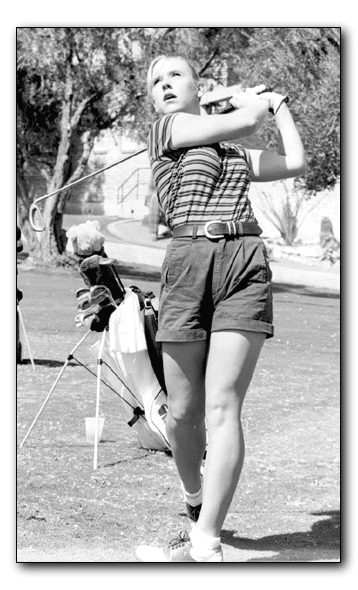 Wildcat File Photo
Arizona Daily Wildcat
UA women's golf senior Jenna Daniels follows through on a practice shot. The No. 1 Wildcats defeated 18 other teams to win the Arizona Invitational yesterday with a final score of 7-under-par 857.
Entering the final round of a golf tournament with 15 of the country's top teams gunning for you is not an easy task.
But don't tell the Arizona women's golf team that.
The top-ranked Wildcats won their third straight tournament yesterday at the Arizona Invitational, which was held at the Randolph Park Golf Course in Tucson.
The Wildcats entered the third and final day of tournament with a seven stroke lead. They ended up shooting a 7-under-par 857 for a seven shot victory.
All-American senior Jenna Daniels said she talked to her coach on the 10th hole yesterday and found out some of her teammates weren't performing to their capability.
"I knew I needed to pick up my play and bring home a good score," Daniels said.
Daniels shot 1-under on the back nine, helping the team to victory.
After a slow first day, Daniels went to the driving range and returned ready for days two and three. She shot a 3-under par 69 on Tuesday and followed yesterday with a 4-under par round. Daniels, who entered yesterday's round in 17th place, finished tied for fifth.
"After the first round, I was really frustrated," Daniels said. "I went to the range after the first day and fixed some things on my swing. I felt ready to go for day two."
Daniels not only helped the team as a whole, but also the play of her teammates.
"She is very encouraging and supportive of the team," freshmen Julia Kraschinski said. "The team comes first to Jenna, and that is what stands out about her."
Along with Daniels, All-American senior Jill Gomric played solid golf yesterday. She carded a 69 and finished with a three-day total of 215, which is 1-under-par.
"I played really well the first two days," Gomric said. "(Yesterday) I was fortunate to hit my putts and score well."
As she did two weeks ago in California, junior Christina Monteiro had a consistent tournament. She tied Daniels for fifth after shooting a 3-under par 213. Monteiro was so focused on her game yesterday, that she didn't even know they won the tournament when it ended.
"I had no clue how the other teams were doing," Monteiro said. "I was trying to get as low a score as I could."
Thriving under third-round pressure is nothing new for the Wildcats.
"We love third rounds, and that is when we play our best," sophomore Christina Baena said.
Arizona State, which finished seven strokes behind the Wildcats with a team score of 864, ended up in second place. Stanford finished with a team score of 865, which earned the Cardinal third place honors.
"We are very excited about our win," Daniels said. " We have knocked off the best teams in the nation for three tournaments in a row. That is a real boost of confidence."