Woods questionable for ASU game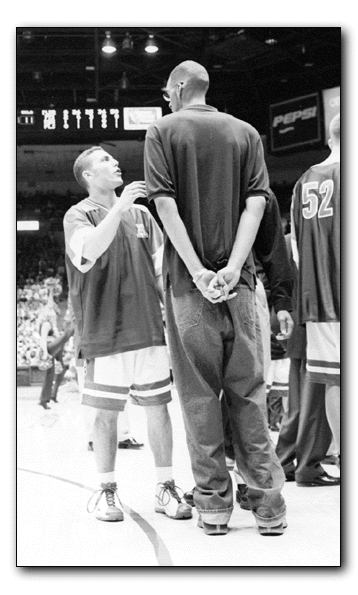 Randy Metcalf
Arizona Daily Wildcat
Senior guard Josh Pastner speaks with injured center Loren Woods at last weekend's Arizona-UCLA basketball game. Woods' playing status remains questionable for the Wildcats' upcoming home game against Arizona State.
Having sat out last weekend's win against UCLA with back spasms, Loren Woods is still questionable for Saturday's game against Arizona State at McKale Center.
The 7-foot-1 junior center leads Arizona (23-4 overall, 12-1 in the Pacific 10 Conference) in scoring (15.6 ppg) and blocks (3.9 bpg) and is second on the team in rebounding (7.5 rpg).
"He's questionable as far as our preparation is concerned," UA head coach Lute Olson said. "We will have to go about with our preparation as if he won't play, and hope for a surprise."
The Wildcats did not formally practice Sunday, Monday or Tuesday, instead choosing to rest their legs. Woods has been receiving treatment for his back problems, which started to bother him during the ASU game on Jan. 26.
His absence means junior forward Justin Wessel and sophomore forward Michael Wright will have to shoulder the load inside, since Arizona will again only have six scholarship players available to them.
Olson is well aware of mind games before a big UA-ASU game, and would not disclose any more details on Woods' injury or how the Wildcats plan on stopping ASU's Eddie House, who was held to eight points in the first meeting.
"It's a tremendous challenge," Olson said. "We're awfully thin, but I'm sure not a lot of people would have thought we'd play as good as we did Saturday without Loren."
In other injury news, sophomore forward Richard Jefferson will get his right foot X-rayed on Monday morning, and Olson is hopeful he'll be able to return to practice that afternoon and return to face Oregon State Mar. 2.
Jefferson broke his foot Jan. 8 at Stanford. The cast has since been removed, and Jefferson has been going through light workouts since Feb. 17.
"The amount of time he'd be able to play on the Oregon trip is based on what we see his conditioning is," Olson said. "From what we can tell, it's good."
Few teams have had to face the adversity that Arizona has gone through this season. Injuries, transfers and redshirts - the Wildcats have seen it all.
But there is one positive to all these distractions - the team has pulled together and become a stronger unit.
"It has been a long season," Wright said. "Every time something happens, the team just bonds together.
"(Olson) gets on us a lot when somebody goes down with an injury. It's good he does that because it makes us play well."