Pac-10 Champs!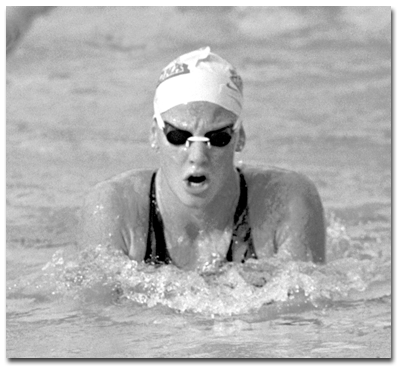 Randy Metcalf
Arizona Daily Wildcat
Arizona senior and 12-time All-American Trina Jackson swims against an opponent earlier in the season. The UA women's swim team won its first-ever Pac-10 championship Saturday, ending Stanford's 13-year reign on the Pac-10 championship.
Brian Penso
The Arizona women's swimming and diving team won its first Pacific 10 Conference championship last weekend as they beat the 13-time defending champion Stanford Cardinal.
Since the inception of the Pac-10 Championships in 1987, Stanford had won every conference title.
"We came into this meet not expecting much because only five of our girls shaved," senior Trina Jackson said. "It was amazing how many of our girls swam so fast without being shaved. Our team has never won anything, and now we know that we can win."
The UA women accumulated a final score of 1,325, which was 128 points more then the second place Cardinal. Freshmen Beth Botsford and Amanda Beard, and sophomore Erin Vogt led the way by each claiming a Pac-10 title in their respective individual events.
Botsford, who holds the American record in the in the 200-meter backstroke, started Arizona's run at the conference title, as she won the 200 backstroke with an impressive time of 1:54.45.
"I have never been a part of a team like this," Botsford said. "It was a great feeling to win a personal title, but it felt so good to win the conference. This was the most amazing feeling to be a part of such great team."
Fifteen-time All-American senior Denali Knapp and senior Rachel Joseph also earned points for UA in the 200 backstroke with a fifth and sixth place finish respectively.
Beard came from behind in the final stretch of the 200 breaststroke to claim her first Pac-10 title with a time of 2:10.41. Beard missed the Pac-10 record by less then nine tenths of a second.
Vogt broke Jackson's Arizona record in the 200 butterfly. Vogt's time of 1:56.87 bettered Jackson's time by a 1/12 of a second.
Arizona also earned valuable points in the tough 1650 freestyle with a second-place finish from Jackson and a fifth place finish from sophomore Caroline Kilian.
"This win gave us a lot of confidence, but our main goal is to win NCAA's," Botsford said. "This meet was a reality check for us because we now know what it takes to win. Four of the five best teams in the country are from the Pac-10 and they are going to be gunning for us at NCAA's. All we have to do is focus on swimming well and doing our best"
Nearby at the University of Southern California, members of the women's diving teams were also competing.
The Wildcat women were led by junior All-American Lindsay Berryman, who captured her first Pac-10 title in the 10-meter platform. Her main competition coming into these championships was Stanford's Mckenze Murphy, whom Berryman beat by only 20 points.
"It was real exciting to win my first title. Berryman said. "I did not believe it at first. This title gives me a lot of confidence for the rest of the season. Hopefully this is a good indicator of they way I am going to dive the rest of the season."
Berryman also placed second in the 3-meter diving competition.
Also. UA junior Adrain David, sophomore Sara Quijano, senior Andrea Glass and freshman Jenn Hess placed in diving, earning UA valuable points that separated them from the rest of the field.