Arenas shuts down House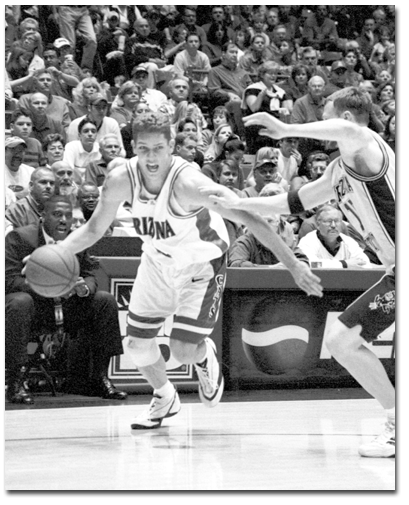 Matt Heistand
Arizona Daily Wildcat
Arizona redshirt freshman Luke Walton drives past an Arizona State defender in Saturday's 89-82 UA victory. The victory kept the Wildcats tied with Stanford for first place in the Pac-10 with a 13-1 conference record.
Arizona State senior guard Eddie House may have already wrapped up the Pacific 10 Conference Player of the Year award, but in two games against Arizona, House has failed to impress.
After being held to eight points in the team's first meeting on Jan. 26, the Arizona State guard scored only seven points on three-for-15 shooting as Arizona (24-4 overall, 13-1 in Pac-10) completed the season sweep against the Sun Devils with a 89-82 win at McKale Center on Saturday.
House still leads the Pac-10 in scoring, averaging 24.5 points per game in conference games.
"I had a bad game, but I can't dwell on it," House said. "I played hard, but my shots just weren't falling today. I'm more upset about the loss than how I played."
For most of the game, Arizona defended House man-to-man by freshmen guards Gilbert Arenas and Jason Gardner, who were supported by their teammates when House came off a screen.
"The two freshmen kids did a great job and got a lot of help," UA head coach Lute Olson said. "We just were not going to let him go off on us. Both games, he's had a tough time, and it's a team effort."
After Arizona jumped out to a 21-point lead, Arizona State closed the gap to 12 at halftime. The Sun Devils (16-10, 8-6) brought Arizona's lead down to seven points early in the second half, but Arizona went on a run to bring the lead back to 17.
ASU would not go away down the stretch, closing the UA lead to three points with 3:28 left.
That was as close as the Sun Devils would get, as Arizona shot 14-for-18 from the free throw line in the final 2:35 to put the game out of reach.
The win extends Arizona's streak against ASU to 10 games.
"It was a great effort by ASU," Olson said. "It didn't look like they'd come back, but they did."
Proving that he could do more than just stop House on the defensive end, Arenas made the ASU senior look like a freshman, by scoring a career-high 29 points.
"I told him to go make that money, don't worry about us," Arenas said to House after the game.
Also scoring a career-high was redshirt freshman Luke Walton, who scored 23 points on seven-for-nine shooting.
Walton, who has led Arizona in assists in five of the last seven games, also added a game-high seven assists.
"The way our team is, whoever is feeling good is going to get the ball, and me and (Gilbert) felt it today," Walton said.
All five Wildcat starters played more than 37 minutes. Sophomore forward Michael Wright and Gardner played all but one minute.
Wright had a double-double with 16 points and 14 rebounds, his 11th double-double this season, a Pac-10 best. Gardner added 13 points and seven rebounds.
Filling in for junior center Loren Woods, junior forward Justin Wessel scored eight points and grabbed eight rebounds.
For ASU, guard Alton Mason came off the bench to score a team-high 18 points.
In a ceremony following the game, the floor at McKale Center was officially named Lute Olson Court. UA President Peter Likins, former UA athletic director and current NCAA President Cedric Dempsey and UA Athletic Director Jim Livengood honored Lute and Bobbi Olson with words and a video featuring Olson's 17 years at Arizona.
The half-court circle will be painted blue and have "Lute Olson Court" written inside, something that may make the UA head coach self-conscious when he steps on the hardwood from now on.
"Well, it's probably the reason I would have preferred to have it done later, to tell you the truth," Olson said. "It's a strange feeling, but it's much appreciated."