Men's tennis pulls off 2 upsets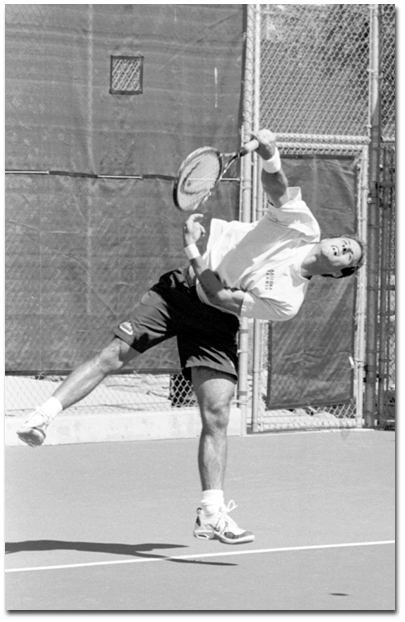 Arizona Daily Wildcat
Photo by: AMY WINKLER
Senior Jean-Noel LeCoste serves in his 3-6, 6-3, 6-4 victory against Arizona State on Saturday. The UA men's tennis team upset both Texas Tech and ASU last weekend to improve to 6-3 overall.
Heading into last weekend, the No. 55 UA men's tennis team was into the crucial part of its schedule against ranked opponents.
Hosting No. 31 Texas Tech and No. 34 Arizona State this weekend, the men's tennis team pulled off upset victories, closing out a stretch of facing four ranked teams in two weeks.
Receiving commanding performances from the second, fifth, and sixth positions in the singles lineup, Arizona (6-3 overall, 1-2 in Pacific 10 Conference) pulled out a pair of 4-3 wins.
Friday, the Wildcats opened the match against Texas Tech (3-2), winning two out of three matches to earn the matches' doubles point.
From there, UA went on to win three of the next six singles matches to clinch the win.
From the No. 6 slot, sophomore Caleb Marquardt won in straight sets, 6-3, 6-2 , and fifth-seeded senior Alex Brown also came away victorious, 6-2, 7-6.
In the No. 2 position, senior Jean-Noel LaCoste (6-5, 1-2) won 3-6, 6-3, 6-4, closing out the fifth win of the season for Arizona.
Saturday, the Wildcats won their first Pac-10 match against No. 34 Arizona State (3-3, 0-3). After dropping all three matches in doubles play, the team went on to win four out of six in singles play, wrapping up the weekend.
"We knew going to the singles matches it was imperative (for) the number five and six positions to win," Brown said.
Brown came away with his sixth win in his last seven matches, beating ASU's Andrew Golub, 7-5, 6-2.
Following Brown, Marquardt finished off his perfect weekend with a 6-2, 6-1 victory.
LaCoste again clinched the win for UA with a 6-2, 6-4 win.
"Jean-Noel stepped up big and was the clincher for us both days." Brown said. "Both of these teams are really strong. These victories boost confidence for the team."
In Tempe, No. 9 Arizona State (7-1, 3-1) soundly defeated the women's team 9-0 yesterday. The Sun Devils did not lose a single set to No. 21 Arizona (6-3, 1-3), handing the Wildcats their second straight loss.
Sun Devils' Allison Bradshaw and Celena McCoury, ranked 29 nationally, upset the No. 15 duo of sophomore Lindsey Blau and junior Michelle Gough, 8-2, in doubles play.
In the singles lineup, ASU continued it's dominance against the Wildcats as each of the Sun Devils' nationally ranked players all won in straight sets.