UA officials listen to Christopher City residents' health concerns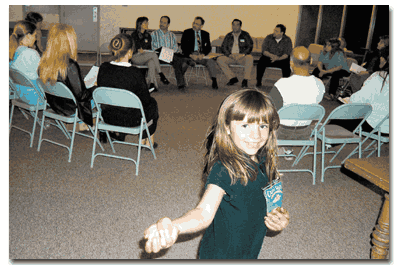 Arizona Daily Wildcat
Photo by: DANIEL KEMPNER
Kylee Carr, 5, daughter of Christopher City resident Charla Carr stands amidst an informational meeting at the complex's Community Center last night. The meeting was held by UA Risk Management and Safety and Residence Life to inform residents about a mold inspection that will take place soon.
Christopher City residents met with UA officials last night to explain the health problems they attribute to living in their apartments.
University of Arizona Risk Management and Residence Life officials outlined their plan to completely inspect the complex for a toxic mold that was reported in two apartments last month.
Christina Livingston, a creative writing senior, said she has coughed up blood and has been in a coma, health problems she thinks are related to living at Christopher City.
"I've never been as sick since I've lived here," Livingston said. "If I knew then what I know now, I wouldn't have stayed."
Stachybotrys chartarum - a toxic mold - was found in two Christopher City apartments in February, according to reports compiled by Julia Rosen, a Risk Management health and safety officer.
Rosen said the toxic mold grows on cellulose material such as carpet padding.
Stachybotrys chartarum has been associated with health problems such as bleeding lungs.
"The long-range plan is to have a full inspection of the apartments of Christopher City," said Herb Wagner, Risk Management assistant director.
"Generally, the mold is going to be found in hidden places," Wagner said.
The inspection will start tomorrow on a case-by-case basis, but the full inspection will begin within a month.
Ray Corral, Residence Life associate director of facilities, said the apartments with small children will be inspected first.
A consulting firm to perform the inspections will be chosen within a couple weeks, Rosen said. The results will be available about four to six weeks after a consultant is chosen, but qualitative results will be done sooner, she added.
Wagner said the inspection's cost has not been determined yet and paperwork has been sent to the UA procurement office. He added that a decision should be made within a couple of weeks.
Charla Carr, a former Christopher City resident whose 5-year-old daughter developed asthma after living in their apartment, said she wants the UA to solve the mold problem.
"I guess I want to make sure you guys are going to continue to carry this beyond this meeting," Carr said.
Jake Elkins, an urban and regional planning graduate student, said he has experienced health problems since he moved to Christopher City two years ago.
"I pointed out the presence of Stachybotrys chartarum in my apartment last year," Elkins said.
He added that he is unsatisfied with the inspection.
"We need a valid sampling out here to establish the prevalence of mold," Elkins said. "I think we deserve a class action suit myself."
Carr said filing a lawsuit would be the wrong approach.
"If you sue, all you're going to do is cause the university to walk away from family housing," said Carr, adding that she has considered a lawsuit.
Carr, a history junior, said it took a long time for her and her friend, another former resident, to receive a response last semester, and now, she wants the UA to find a solution.
"This has got to stop, and I will not stop," Carr said. "You can't tell these people 'it isn't a big deal' and 'we're taking care of it.'"
Carr suggested Campus Health officials test the blood of residents.
"Give them something concrete so they won't come back to you two years later," Carr said.
Michelle Lowry, a Christopher City resident, said she and her husband are thinking of moving because of the mold.
Lowry said she thinks the UA may not conduct a comprehensive inspection because officials plan to sell the complex.
"They're mitigating people's fears and not solving the problem," said Lowry, whose husband Paul is a UA management information systems doctoral student.
She said she wants new UA family housing built on a piece of land that is not being used at the existing Christopher City site.
Patrick Call, Residence Life associate director of residential education, said the UA is not planning to sell Christopher City.
Call said a committee will be formed to decide the future of the complex. He added a Residence Life survey was conducted to generate residents' input about the matter.
"At this point in time, there is no plan to close Christopher City," Call said.
Jeff Middleton, another Christopher City resident, said he developed allergy problems about three weeks after his apartment flooded.
"It's really disturbing," said Middleton, whose wife, Noriko Iwasaki is a UA linguistics doctoral student. "I've never had anything like this before, so it is strange."
But he said he is confident Rosen will handle the inspection well. He added that he is satisfied with her performance.
He also said he is aware of other apartment complexes having mold problems, so he is not very concerned with Christopher City's.
"I don't think it is too unusual," Middleton said.
Christopher City residents can request an inspection to be conducted soon by contacting the community center desk. They will receive a memo notifying them when a complete inspection, handled by a consulting firm, will begin.