Escort Service will receive additional ASUA funding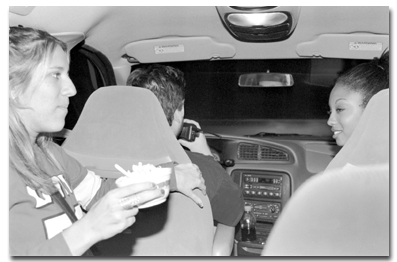 Arizona Daily Wildcat
Because of increased demand, the Escort Service will require supplemental funding from ASUA to operate through the end of the semester.
Rachel Reinhardt, an interdisciplinary studies senior and former director of the program, said the service is facing a money shortage.
Reinhardt said the Escort Service has done its best to stay in service despite the shortage, but that has meant cutting back hours of operation and staff members. The service is also seeking sponsorship from local businesses to make up for the financial gap.
"Other than cutting back extraneous expenditures and staff, we are going to groups and asking for money," she said.
Reinhardt has been trying to convince the University of Arizona to increase annual funding for the Escort Service. She said that this would prevent future lack of funding.
For now, ASUA will be supplementing the service with additional money.
Tiffany Podbielski, an ASUA senator who also works for the Escort Service, said there is no chance the service will close.
"The Escort Service won't shut down because (administrative vice president) Viviane Safrin has a budget to supplement what they need to continue through the rest of the year," she said. "We're going to make sure the Escort Service stays afloat because it's one of the best services we offer to students."
Safrin said the Escort Service is allocated $55,000 a year and is supplemented with $7,000 from the ASUA service budget. She added that the Parents' Association is also giving some money.
"They receive so many more calls than they're used to," she said. "When you get 300 calls a night, there's only so far the resources can go."
The service is popular with on-campus residents, Podbielski said. She added that 200 to 300 students use the service every weeknight.
Demand for the service has increased dramatically this year, with a 40 percent increase since last year reported in October.
"We have a lot of regulars, a lot of traffic between the residence halls and to and from the library," Reinhardt said. "I think that some students wouldn't go out if they had to walk by themselves, so we make sure they get where they need to go and get home safely."
Kathy Feng, an accounting and finance sophomore, said she uses the Escort Service two to three times a week. She said without the service she would have to find friends to walk with her.
"I would definitely have to find someone else to go out with me because I get so scared when I walk alone," she said.
Fen also believes that the Escort Service's operation should be a UA priority.
"I'm sure it (the university) has put a lot of money into the phones, which are also for safety," she said. "I think it should keep the service running for the sake of the students, it should want to make things safe and comfortable."
The Escort Service uses one minivan, a van donated by Budget Car and Truck Rental of Tucson and two golf carts to transport students from Sunday to Thursday nights after sunset. It recently purchased a shuttle van from Cat Tran, but have yet to use it because of brake problems.