UA needs to adapt to changing century, student leaders say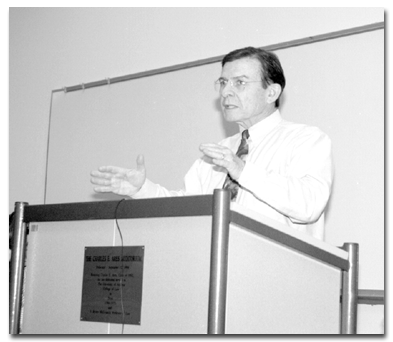 Matt Capowski
Arizona Daily Wildcat
UA president Peter Likins speaks at the UA 2025 Wishes and Visions Forum yesterday in the College of Law. Likins and other panelists said the UA needs to adapt in order to stay competitive in the twenty first century.
University leaders yesterday said the UA needs to make major changes to stay competitive in the 21st century.
"There will be a struggle for us in keeping our position in the hierarchy of institutions," University of Arizona President Peter Likins told a group of about 20. "Our role will continue to grow and develop."
Likins joined Elizabeth Kennedy, women's studies department head, Jay Stauss, American Indian studies director, and Students Against Sweatshops spokesman Lane Van Ham for a forum, "The UA in 2025: Wishes and Visions," yesterday at the James E. Rogers College of Law.
Likins said the university can expect more competition from outside learning sources - like the Internet - as well as private institutions like Phoenix College and Columbia University West.
"We best make sure we remain a quality institution," he said.
Likins assured audience members that residential universities like the UA are not a dying breed.
"There's a very important place for us," he said. "There will always be a very important role for us to play."
Van Ham and some audience members said the UA needs to be wary of corporate ties.
"It's troubling to me the extent to which the corporate agenda has become visible," said Van Ham, a comparative cultural and literary studies graduate student. "The university should be wary of such allies."
Van Ham told audience members that the UA needs to welcome debates on corporate ties.
"It (change) has to do with providing a space for interrogative detours," he said. "There's every reason to push for a critical dimension to the university."
Law professor Andrew Silverman, speaking from the audience, said he agreed.
"I hope the university still maintains to be the center of dissent in our society," said Silverman, a member of the UA Human Rights and Labor Task Force. "I do see the corporate influence as rising and that's not a particularly good thing."
But Jack Gaskill, a retired UA professor of optical science and electrical and computer engineering, said the university should refrain from generalizing companies.
"I don't believe that corporations are inherently evil," Gaskill said. "Just because it's a corporation, it isn't evil."
Kennedy and Stauss said the future of the UA should include a more fluid inclusion of women and minorities.
Kennedy said her wish is "that the university recognize that the face of the modern university ... has come about because of the work women's studies and ethnic studies did."
Kennedy also said the university needs focus on pay equity among faculty members, as well as developing a stronger child care system.
"I don't think it has grappled with how serious the issue of child care is for students and faculty," she said. "As important as water for the future of our society is the issue of child care."
Stauss said the UA needs to recognize and appreciate spirituality "as much as science" in order to retain American Indian students.
"For native students, the university environment is not a hospitable one," Stauss said. "They feel like they have to give up what they do at home."
He added that although there have been improvements in diversifying faculty and students, it has not been enough.
"I believe we're at a point where the UA has lost its resolve ... to recruit ethnic faculty," Stauss said.
Surgery professor Marlys Witte told panelists that although talks about 2025 are important, leaders should concentrate on the present.
"We should talk about 2025, but we should also talk about what we should say, what we can do Monday to get there," Witte said.
Likins agreed.
"I guess my job is to see what we do in the next five years or so positions us for this kind of future," he said.