Main Event 2000 draws 1,600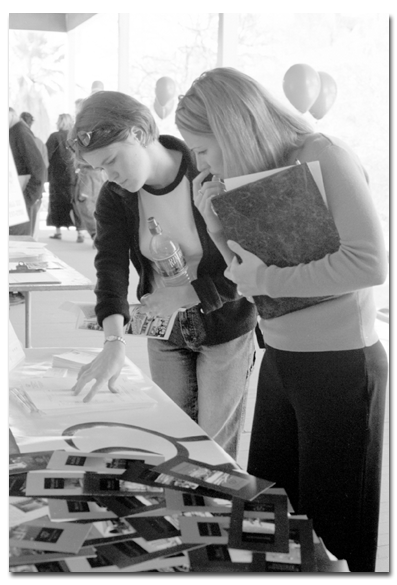 Arizona Daily Wildcat
Photo by: AMY WINKLER
(left) Undecided sophomore Susan Webber and communications senior Jaime Weideman inquire about internship and career possibilities yesterday at the Doubletree Hotel booth on the balcony of Old Main. The Main Event, sponsored by Career Services, allowed students to gather information about internships and career positions.
About 1,600 UA students clad in business attire, street garb and casual wear strolled around the Old Main balcony yesterday seeking information about alternative job opportunities.
"A lot of what I see is volunteer work," said Leroy Shingoitewa, a physiological science senior who attended the event. "If you're in school and you are looking for part-time work, it's good - like volunteering with children."
Sponsored by University of Arizona's Career Services, The Main Event 2000 gave way to opportunities for students with human welfare, health and volunteer interests in its first year of being established as a fair.
"It's not that the university can't offer these opportunities - there's an excellent mix right now," said Susan Miller, Career Services coordinator.
"We originally thought we tried to expand for students that are not in traditional business tracks, but they would love to get business students as well as social and behavioral science students," Miller said.
Although most of the 50 non-profit organizations and small businesses were from the Tucson area, many were from other Arizona cities and California, Miller said.
Organizations like Disneyland, the Peace Corps, the Southern Arizona AIDS Foundation and the Arizona Theatre Company sent representatives and affiliates to speak with students about prospects.
"There are a number of different jobs with different qualifications, like a substitute teacher," said Nic Clement, assistant supervisor for Flowing Wells Elementary School, 1556 W. Prince Rd.
"We're recruiting for both the long and the short term - folks who are thinking of going into teaching or those in their first year so they have us in mind when they graduate," Clement added.
Miller said UA's Career Week, a three-day recruiting event featuring about 300 large corporations, received negative comments from some students, so the Main Event - which she said is not "Career Week's little sister" - would provide alternative vocations.
"It's been a critic from students in Social and Behavioral Sciences that say they don't have many opportunities," she said, adding that nearly 80 percent of all the alternative organizations were based in Tucson.
Ray Runyon, a chemistry senior, said that although he did not find the job he was seeking, he was proud that Tucson-based organizations were recruiting UA students.
"It's nice to see things located in Tucson trying to keep young students in Tucson to keep the job market here instead of recruiting across the nation, out of state," Runyon said.
Several students said the Main Event was more welcoming and more personal than Career Week and provided more alternative possibilities.
"I thought it was more of a job fair, but it's like an agency fair with helping people," said Young-Hee Asato, a computer engineering senior. "It's a different feeling because it's not strictly looking for a job - it's also a learning experience."
Even though she was not pursuing a job, Diana Dickson, a business management senior, said the fair was geared specifically toward her interests, which made the event more affirming.
"My interest in non-profit is what brought me here," Dickson said. "I'm not looking for anything, but I do want to see what my options are."
Dickson, who said she also attended last year's Career Week, said the Main Event was more beneficial to her.
"I like the smaller fair because it aids in reducing the congestion," she said, adding that Career Week "was a mad house - I didn't get much accomplished."