Road warriors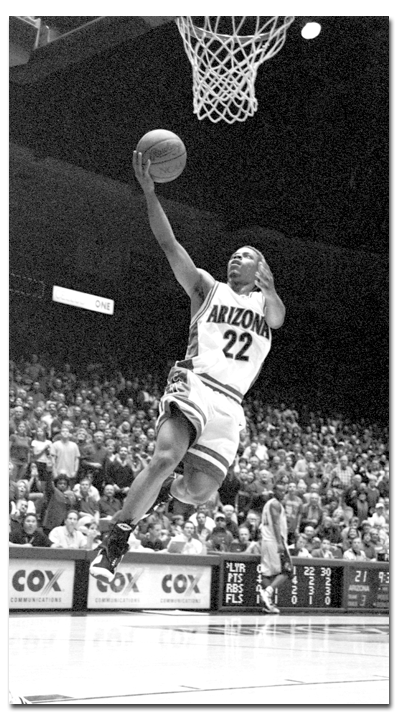 Matt Heistand
Arizona Daily Wildcat
Freshman point guard Jason Gardner goes up for a layup against Arizona State, Feb. 26 at the McKale Center. The Wildcats put their seven-game win streak on the line tonight against Oregon State in Corvallis, Ore.
Playing on the road in front of rowdy fans seems to bring out the best in the Arizona Wildcat men's basketball team.
Tonight at 8, Arizona (24-4 overall, 13-1 in the Pacific 10 Conference) faces Oregon State (12-14, 4-11) in its second-to-last away game of the regular season.
The crowd in Corvallis, Ore., has always saved something extra for the Wildcats, which paid off during last year's 60-59 upset.
"It was nuts up there," redshirt freshman forward Luke Walton said.
Walton, who made the trip despite redshirting the season with a broken right foot, said the students were in the stands before the team arrived at Gill Coliseum and yelled at them all throughout warm-ups.
"I got mad," Walton said. "The crowd gets all over you, but we're much better when it's like that."
This year's team has a year of experience under its belt and has already quieted the crowds at Stanford, UCLA and Washington, but face two more difficult tasks this weekend with Oregon State and Oregon in its quest for the Pac-10 championship
"From what I hear, I hear both Oregon schools are tough to play at, Oregon and Oregon State are going to have great crowds," freshman guard Jason Gardner said. "We beat them both down here, but I think both were pretty good games."
UA defeated Oregon State 90-73 in Tucson Feb. 5.
Freshman guard Gilbert Arenas has scored in double-digits in the last 14 games, and has averaged 24.3 points in the last four games, including a career-high 29 points last Saturday against Arizona State. While the last three of those games came at McKale Center, it is on the road where Arenas really shines.
In seven Pac-10 games away from home, Arenas has averaged 16.4 points.
"Interestingly enough," UA head coach Lute Olson said, "I looked at the stats and in the league, he's shooting 48.1-percent. Eliminate the three-point shots, and he's shooting 58.2-percent."
While the Wildcats will be without junior center Loren Woods, who is out at least another week or two with a back injury, sophomore forward Richard Jefferson will play for the first time since breaking his foot on Jan. 8 against Stanford.
"If I go out there and play aggressive, good things are going to happen," Jefferson said. "Especially if I don't go out there and try to prove too much, just let my game play."
Oregon State has lost eight of its last 10 games, including the last two, suffered last weekend at USC and UCLA.
Picked by the media in the preseason to finish fifth in the Pac-10, the Beavers currently stand in eighth-place.
Guard Deaundra Tanner is the team's leading scorer (13.8 ppg) and assist-man (5.08 apg), but the experienced players behind him have been inconsistent all season long.
"It's been a case where (OSU head coach) Eddie (Payne) has had to do some experimenting, or maybe it's a case of guys playing better than others in practice," Olson said.