UA women host streaking Oregon State team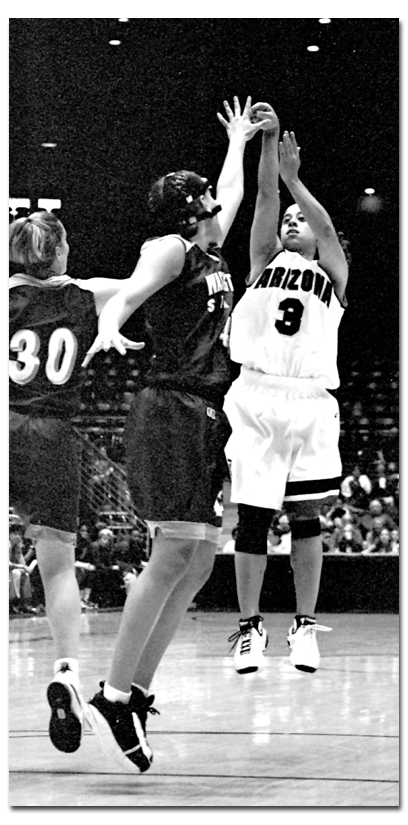 Aaron Farnsworth
Arizona Daily Wildcat
Senior guard Lisa Griffith releases a shot earlier in the season. UA is one game behind Stanford for first-place in the Pac-10. The Wildcats host Oregon State tonight at the McKale Center.
After reviving its hopes for the Pacific 10 Conference title last weekend in Tempe, the No. 16 Arizona women's basketball team hosts the fastest rising team in the conference tonight.
The Oregon State Beavers (14-13 overall, 10-5 Pac-10) have won 10 of their last 13 games, are on a four-game winning streak and just swept the Los Angeles schools, but all that doesn't worry UA coaches and players.
"They are coming into our homecourt and we're not going to let down at all," senior guard Lisa Griffith said. "We hear all this stuff about being the hottest team in the Pac-10, but we're not buying into it, we're just going out there to play."
Though Arizona (21-5, 10-4) was swept by the L.A. schools two weeks ago and the Beavers downed USC 73-66 and UCLA 72-52 last weekend, senior guard Felecity Willis said playing at home for the last time this season will motivate them enough to beat the streaking OSU squad.
Oregon State senior center Sissel Pierce, last week's Pac-10 Player of the Week poses as the biggest threat for Arizona. She ranks second nationally in blocked shots (3.0 blocks per game) and is the centerpiece of the Pac-10's top-ranked defense.
"There is going to be an extreme motivation for us to show them that we have better defenders," Griffith said. "Coach B always focuses on defense, so we're just going to be very motivated to show them that we can play defense with lots of pressure. Usually we lead the conference in defense, so we want to prove that we're still up there."
Though the Wildcats committed 28 turnovers and 27 fouls, Arizona defeated OSU 65-49 in their last meeting on Feb. 6.
"They played us tough when we were up there, but we were able to put together a two or three minute run on them to put them away," Willis said. "They are going to come in fired up,"
UA head coach Joan Bonvicini recognizes that the Beavers are making a run in the conference race, but hopes to quickly extinguish their hot streak.
"Oregon State is much improved and playing very well right now. They are a very scrappy team, they're quick and have an excellent post player in Sissel Pierce," Bonvicini said.
"The keys for us are, which we did last week, we were very aggressive on defense and we need to rebound well and I think we need to go right at them. We've played a lot of games and this is certainly an important one."