The long road back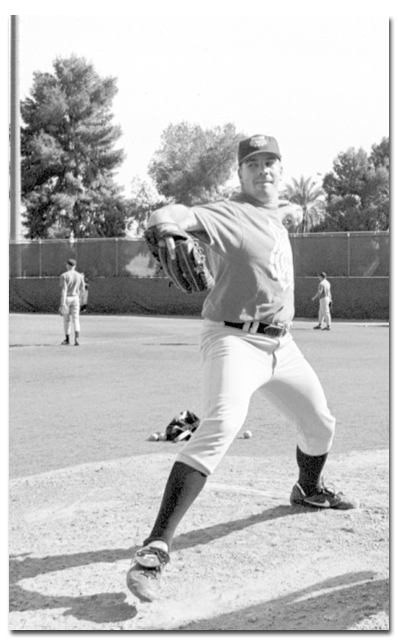 Aaron Farnsworth
Arizona Daily Wildcat
Senior pitcher Rob Shabansky warms up at practice Tuesday. Shabansky started his first game of the year against No. 15 Tulane on Sunday, marking his comeback from reconstructive elbow surgery.
Rob Shabansky is telling stories again. This time, the tale is about former UA baseball coach Jerry Kindall.
Listening eagerly is Wildcat sophomore Ben Diggins, Arizona's right-handed No. 1 starter. Diggins, born in 1979, is young compared to the man they call "Chubbs"- Shabansky celebrated his 23rd birthday last Sunday.
Shabansky has been in the UA program since 1995, the year Diggins was a freshman in high school.
"It's weird," Shabansky said, "(Diggins and I) are always talking, and he's always asking me to tell him stories. I was the last man to play for Kindall. I feel like an old man sometimes."
Shabansky made his first start in more than a year Sunday against No. 15 Tulane. The lefty had missed the better part of a season following reconstructive elbow surgery.
"It's such a lift for us to have him healthy. For two years, he was our No. 1 starter, and we couldn't use him," UA pitching coach Bill Kinneberg said. "He's the winningest pitcher in the 90s for us. For him to do so in such a short time tells you what kind of pitcher he is."
Although he was limited to three innings of work, it became apparent that Shabansky's comeback is now officially in full swing.
"I heard a pop"
Shabansky first injured his elbow while throwing on Feb. 27, 1998 - his 21st birthday.
"I heard a pop," he said. "At first, I didn't think anything was wrong."
During the following months, he would find out that the injury was more serious than previously thought.
"I found out I partially tore a ligament," he said.
Shabansky acted as the team's designated hitter for the remainder of the 1998 season, pitching in just seven games. Following the season, the senior was operated on for the first time, repairing the elbow. The lefty spent the summer rehabilitating, ready to enter the 1999 season as the team's No. 1 starter.
Prior to the season opener, Shabansky's physical therapist left him with some words of advice.
"My therapist told me that the only time I'd run into problems is if I kept saying 'ouch' on every pitch," he said.
And then it happened again.
In his first start of the year - the season opener - Shabansky injured his elbow for a second time.
With two outs in the second inning, Shabansky completely tore his medial collateral ligament. He missed the rest of the season and was scheduled to have reconstructive elbow surgery a month later.
Worst of all, his baseball career was in serious jeopardy.
"It feels like your arm is going to break"
At the recommendation of former Wildcat Eric Mattern, Shabansky was operated on at the Kerlan-Jobe Clinic in Los Angeles. .
"Dr. Yocum did a great job," he said. "He (operated on major leaguers) Tim Salmon and Jim Edmonds (of the Anaheim Angels). Mattern told me he was a great doctor."
The operation was a success, and the lefty wasted no time starting his rehabilitation process.
"I started rehab the next day," he said. "I started off squeezing a Nerf ball to get the blood flowing."
Three weeks following the surgery, Shabansky tested his range of motion for the first time - with painful results.
"It felt like my elbow wouldn't move," he said. "It's like pushing on something that doesn't want to move. It feels like your arm is going to break."
Shabansky spent last spring splitting his duties between school and baseball.
With only seven units left before graduation, Shabansky decided to skip the fall semester, choosing to stay at home in Las Vegas to rehabilitate his elbow.
"If I would have come back for the first semester, I would have had to worry about school, baseball and rehab," he said. "At home, I only had to focus on one thing."
After spending the semester with his parents in Nevada, Shabansky returned to Tucson with his sights set on a spot in the Wildcat rotation.
"I didn't want to hang 'em up"
Shabansky arrived in Tucson to a new group of teammates, mostly young faces.
"The first day I came back, I didn't know anybody," he said. "It felt really weird."
Shabansky trudged through the first month of the season as a bystander, periodically entering the lineup as the team's designated hitter.
Finally, a month ago, Shabansky made an informal one-inning start against a New Jersey junior college in a junior varsity game, failing to allow a hit while striking out one and walking one.
He was then slated to start for the Wildcats against Texas A&M at Corpus Christi in the Islanders' first-ever home game. However, Shabansky was scratched prior to the game due to tightness in his arm.
He went on to pitch a scoreless inning of relief later in the week against Texas A&M.
Despite the setback, UA coaches slated Shabansky to start Sunday's finale against Tulane.
To Shabansky, the start marked a chance to formally return to the mound following a year's rehabilitation.
"I was pretty nervous the day before the start," he said. "It's weird. All I could think about were the things that could go wrong."
Thankfully for Shabansky and the Wildcats, his outing went without a hitch.
Shabansky's velocity was in the low 90's - comparable to his speed prior to the surgery.
"We'll try to bump him up by ten pitches with each outing he has," Kinneberg said.
Shabansky pitched three innings, allowing two earned runs on five hits as the Wildcats went on to win the game, 8-5.
"It was a good test," he said. "I know that I can compete still. I think I was at my limit at three innings, though. I would have been sore (on Monday), had I pitched four innings."
Feb. 27th, Shabansky's birthday and two years to the day since he injured his elbow for the first time, was a fitting occasion for his return to Arizona's starting rotation.
"Everyone has been very supportive," he said. "That was a big factor in me coming back. I didn't want to hang 'em up by blowing out my elbow."
"My focus has changed"
Since coming back from surgery and becoming a part of the Arizona team again, Shabansky feels as if his focus has changed.
"I just want to throw quality innings," he said. "In years past, I had wanted to get so many wins or be the Pac-10 pitcher of the year. My focus has changed since the surgery."
While a future in the major leagues may loom in the near future for Shabansky, the senior is more worried about the season at hand.
"I want to help out the team and help get us into the College World Series," he said. "I'd just like to get my innings in and throw well."
UA head coach Jerry Stitt has even toyed with giving Shabansky a spot in the starting rotation, possibly moving senior Mike Crawford to the bullpen.
"It's good to have Rob (Shabansky) back. He's one of our team's leaders," Stitt said.
To Shabansky, being a starter is secondary behind helping the team.
"(Starting is) not that important," he said. "I've always been a starter and I think it's easier on my arm. Either way, I'm happy to be back having another chance to play baseball."
For Shabansky, his comeback is a chance to pitch again following two years of injuries.
And maybe even a chance to tell more stories.