UA battles tough opponents, new rules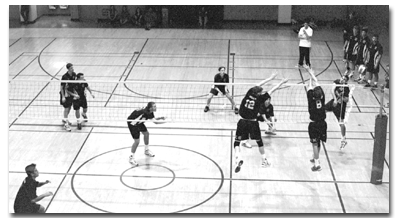 Arizona Daily Wildcat
Photo by: AMY WINKLER
Arizona junior Ryan Taylor (12) and sophomore Jeff Grobe (8) go up to block a shot two weeks ago at the Desert Thunder Tournament in Tucson. The Wildcats host another tournament this weekend, which will feature a new scoring system
The top-ranked Arizona men's club volleyball team hosts another tournament this weekend in an effort to increase the team's competitive level before the national tournament.
"The reasons for the tournament are to get a competition in before spring break and to elevate competition," UA assistant coach Skip Greenburgh said
The Wildcats face No. 8 Texas tonight and have games lined up every hour tomorrow beginning at 11 a.m. and continuing in round robin fashion through 3 p.m. at the Student Recreational Center.
Up first tomorrow for Arizona will be its junior varsity squad, followed by No. 13 Colorado, No. 14 UNLV and No. 4 San Diego State.
Besides taking on some of the top teams from around the country, the team is also trying to adjust to new rules within the sport.
"Volleyball is making an effort to get on TV," head coach Steve Carlat said. "It wasn't gaining as rapidly as other sports getting on TV, so now we're trying this route."
The Federation of International Volleyball reformatted the game during the past year to fit the game into one-to-two hour TV slots in an effort to gain more exposure for the U.S. National team.
With the new rule changes, matches now consist of two 25-point matches and a third 15-point match.
Sideouts will no longer be awarded to the non-serving team. Instead, games will be played at a point-per-play.
Greenburgh said FIVB believes it is making the game more fan friendly because people want to see a lot of scoring.
The change is not favored by all though.
"They're changing a very unique sport for TV," Carlat said. "And I don't think you should change something that is already pretty perfect."
The Wildcats have entered two tournaments with the new scoring system.
Arizona has handled the change very successfully capturing championships at both the Michigan Tournament in Ann Arbor, Mich. and at home in the Desert Thunder Tournament.
"The new scoring gives teams that aren't as strong more advantage in scoring," graduate student outside-hitter Ken Murczek said. "They get an advantage that if just one guy is hot he can carry the team and make the game competitive. That doesn't happen with the regular scoring."
Teammate Mike Stowell agreed.
"It sets some teams up for upsets, like us," the graduate student outside-hitter said.
The new scoring may not favor high caliber teams like the Wildcats, but it has accomplished its goal of speeding up the game.
"In men's game, it can go for 15 to 20 minutes without any team scoring a point," Greenburgh said.
Under the new rules, matches are completed in about 30 minutes.
"I don't like it," Greenburgh said. "Maybe it cuts down on the time, but you can be the better team and not be able to break at all during the game. You can't run and hide for a play and you don't get that relaxation that comes with a sideout."