Gymnasts face No. 2 Michigan in last home meet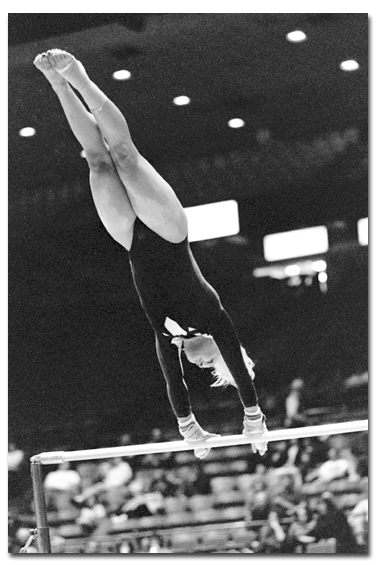 Ian C. Mayer
Arizona Daily Wildcat
Senior Heidi Hornbeek performs on the bar in a meet against Washington earlier this year. In her four-year career, Hornbeek has become an All-American and earned perfect 10.00 scores on both the vault and floor. The Wildcats have their final home meet tomorrow against No. 2 Michigan.
After falling short to Utah last week, the No. 25 Arizona gymnastics' team returns to the McKale Center for its last home meet of the season against No. 2 Michigan tomorrow night at 7:30.
"We want to have another strong performance on beam with no falls" head coach Bill Ryden said. "We also focused a lot on the floor this week and are hoping to hit on all four events."
Prior to the meet, Arizona will recognize its four graduating seniors - Heidi Hornbeek, Lisa Heckel, Kiernan Andrews and Gretchen Diaz - in a short ceremony.
In her five years at Arizona, Hornbeek has earned All-American status and recorded a perfect 10.00 on the vault and the floor.
She has also recorded a 9.95 on the bars and the beam and has an impressive all-around score of 39.7 in her collegiate career.
"I'm really excited, but it hasn't quite hit me yet," Hornbeek said. "When it hits me, it'll hit me hard. I'll really miss it."
After walking-on the team four years ago, Heckel has fought hard for her place in the lineup. Her collegiate best is a 9.675 on the bars, the only event she has competed in.
"It's going to be emotional," Heckel said. "We've all worked so hard and it's all coming to an end so quickly."
Andrews' high scores in her collegiate career include a 9.925 on the vault, along with a 9.2 on the beam and a 9.75 on the floor.
"I'm excited, but sad of course," Andrews said. "It's been a great four years, and I have a lot of memories to take with me."
Diaz, a native from Puerto Rico, is the shortest member of the team at 4-foot-8. She has recorded collegiate bests of 9.8 on the vault, 9.725 on the beam and a 9.25 on the floor.
"It's a mixed emotion, I'm happy and sad at the same time," Diaz said. "I have made some life-long friends here, and I am grateful for that."
After spending so much time with his seniors, Ryden is saddened that the final meet has arrived.
"At the end of a season I always realize that four or five years really isn't a long period of time," Ryden said. "It re-emphasizes to me that you have to appreciate every moment."
In their last meet, the Wildcats had some rough moments against No. 5 Utah, but earned their top team score this season on the beam with a 48.65.
Individually, Hornbeek took first place on the vault for the second week in a row, tying a season high 9.875.
She also tied for third on the bars (9.875) and fourth on the floor (9.75) and finished in third place in the all-around with a score of 39.325.
Junior Kara Fry finished with a scored of 38.825 in the all-around, positioning her in fourth place overall.
Sophomore Emily Peterman tied for six place on the bars setting a career-high with a score of 9.75. Meanwhile Junior Heather Straccia set a career-high on the vault with a 9.75.
After strong performances on all four events and winning the all-around title the week before, sophomore Randi Liljenquist struggled throughout the meet against the Utes.
Liljenquist's best performance of the evening occurred on the floor where she earned sixth place with a score of 9.7.
"Michigan has a good program and a strong team," Ryden said "I am excited for the meet and hope we can win our last home competition."