Candidates debate proposed scholarship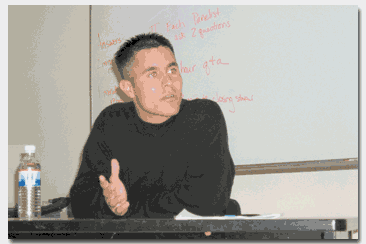 Matt Capowski
Arizona Daily Wildcat
ASUA presidential candidates Ty Trujillo, left, and Ben Graff, right, answer questions during the presidential debate at Harvill last night. The candidates were questioned by a panel of six representatives from different organizations around campus.
ASUA presidential candidates Ben Graff and Ty Trujillo squared off last night before about 30 people in the final campaign step before tomorrow's election.
Panelists and many audience members questioned whether Trujillo's Finish-in-Four scholarship plan would be fair for all students.
Under the scholarship, a student's last semester tuition would be free if he finishes in four years.
"Currently, there are very few incentives for a student to graduate in four years," Trujillo said.
Audience members raised questions about whether the scholarship would be available to students in the architecture and pharmacy departments, which are five-year programs.
Trujillo said incoming freshmen would map out their schedule on a four-year plan or a five-year plan if needed. Then, if the student succeeds in finishing in that time frame, he or she would reap the benefits of the scholarship.
Graff said he was skeptical about Trujillo's Finish-in-Four scholarship.
"Honestly, your Finish-in-Four scholarship scares me," Graff told Trujillo. "Right now, it's only accessible to in-state students."
Graff added that the university shouldn't have any programs that deter out-of-state students.
Trujillo said that although the scholarship would only return out-of-state money in the amount of in-state tuition, students would still see the benefits.
He said his candidacy will get the scholarship started and work out the "kinks."
"Though it will take four years to see the benefits, they will happen," Trujillo said.
Graff criticized Trujillo's Finish-in-Four plan, citing that funding for the scholarship would have to be passed by the state legislature.
He also said it wouldn't be possible for only the UA to have this scholarship because all three state universities have to be equal.
"It would give UA an unfair advantage," Graff said. "Not only would it (the scholarship) have to happen at (Arizona State University), it would have to happen at (Northern Arizona University) for it to be fair."
Trujillo countered by saying he thinks the program would be good statewide.
"I think once ASU and NAU see this program, they would want to jump on," he added.
Graff said one of his main platforms is to maintain a low tuition for students.
UA President Peter Likins wants to raise tuition and financial aid 10 to 15 percent, Graff said.
"The problem is, the average student has an average income," Graff said.
He added that the average student wouldn't be able to qualify for financial aid, so students would just have to deal with a tuition hike.
Graff said he wants to keep tuition low by only increasing tuition to the rate of inflation plus one percent. Then, Graff said, his plan would allow the students to say where that one percent should be used.
Trujillo said the only way to pass this would be to lobby to the state legislature.
The Arizona Students Association - the state universities' student lobbying organization - has not been very successful, Trujillo said, so he does not see how Graff could succeed.
Trujillo also promoted his other platforms, including making ASUA accountable for students since the student government is funded by tuition.
"If you disagree with what ASUA is doing, you should be able to take your money back," Trujillo said.
He added that if many students request their money back from ASUA, the student government is not fully representing the students.
Graff said he does not want to see students taking their money back if they disagree with how ASUA is spending their funds. Graff said ASUA should educate students and come up with a better solution on how the student government could use the funds.
Graff and Trujillo both supported the idea of building a $25 million complex for graduate students.
Graff added that graduate students give a lot back to the university.
"Graduate students are our TAs, they give a lot back to our campus," he said.
Graff said he does not think tuition increases are the way to pay for TA salaries.
"The burden for helping our students shouldn't fall back on students - it should fall back on the state," Graff said.
Trujillo took a different approach to the issue. He said he wasn't sure how to find funding for TAs' salary, but he knows they are an important tool for the university.
"How to find funding for them (the TAs), I'm not sure," Trujillo said. "It's all about listening to them."
When asked about the duties of ASUA presidency, Trujillo emphasized that the president's job should revolve around getting students back involved in ASUA through online voting.
"I want to make it easier for students to get involved in ASUA, the first way to do that is through online voting," Trujillo said.
Graff said the president's job should be to talk to students and organizations and be actively involved.
"One thing that is lacking, is active involvement in other organizations and clubs," Graff said.
Graff said the president shouldn't just visit organizations, but should actually be a part of the organization.