UA art therapy club splashes color on blank UMC walls.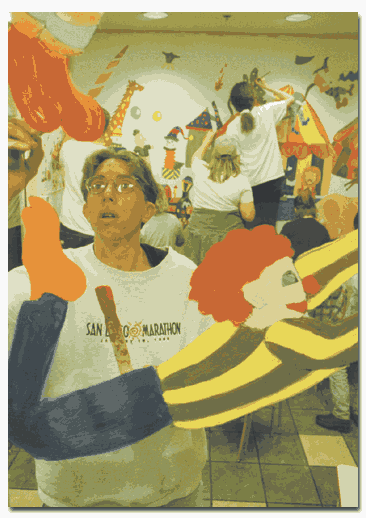 Arizona Daily Wildcat
Photo by: DANIEL KEMPNER
Muralcles member and fine arts graduate Brian Hall puts the finishing touches on a clown's foot in the Pediatric Emergency waiting room at UMC yesterday. The Muralcles, who have been cheering up young patients at the UMC since October, began work on their first mural last Friday.
Amidst the downhearted din of the UMC emergency room waiting area last night, a circus was coming to life in a removed corner of the crowded room.
Members of Muralcles, a University of Arizona organization that brings art therapy to young hospital patients, applied paint to the club's first mural - a lively circus scene - in the pediatric play area of the University Medical Center ER waiting room.
Lindsay Galbut, Muralcles founder and president, watched with shining eyes as club members' paint brushes smeared bright colors across the plaster-white background.
"It's awesome," said Galbut, a marketing senior. "I can't believe it."
Even when the picture was only a faint pencil outline waiting for color, Galbut said she was excited.
"I was just in awe," she said.
Ashley Larsen, a psychology sophomore and the UMC murals director for Muralcles, said about three weeks of planning went into making the mural a reality.
After brainstorming mural ideas, club members presented a sketch of the scene to hospital officials for approval. In addition, hospital officials had to approve the materials used to create the painting.
The mural made its first appearance Friday as a rectangle of masking tape filled with gesso - a primer layer. A sketch of the design was then projected onto the wall and traced with pencil. With continued work from club members, the mural should be completed by Friday.
"It's really bright colors. We can do a lot of images," Larsen said. "It's something kids respond to - there's a lot of animals, a lot of clowns. It just brought the room to life."
Larsen said children, adults and hospital staff have all stopped by the play area to offer encouragement and praise to the club members while they painted the mural.
"Everyone seems to have a really good, positive response to it, so that's nice," she said.
Brian Hall, a recent UA fine arts graduate, designed the busy scene, which featured tightrope walkers, monkeys and bears in a train, and a large yellow and orange tent.
Even though he graduated in December, Hall said he wanted to contribute to the club's first mural. The scene is Hall's first mural design, and he said he hopes to create many more.
As a high school student, Hall said he volunteered with the elderly, but he enjoys working with children because he likes to "see the joy in their eyes."
"I've been waiting a long time for something like this (Muralcles) to happen," Hall said. "They (the children) are like, 'Wow you came here for us? We feel so special.' It's a good feeling."
Galbut said she wonders about the mural's history - how long it will be on the wall, and how many hospital visitors will look at it and use it as a source of discussion or distraction.
Galbut, who is graduating in May, said she will always remember the first mural, both for the actual image and the whole experience of bringing it from paper to the waiting room wall.
"It just really touching because we're approaching the end of the year, and it's kind of the icing on the cake for me," Galbut said. "Not only was it possible, it turned out spectacular. It's just really special for me."
Finance sophomore Mike Vernale said he did not join Muralcles to showcase his artistic skills, but to have a good time and work with children.
"I don't know anything about art - I'm the worst artist in the world. But a lot of people here aren't art majors," Vernale said.
"I love kids," he added. "Even if you're having the worst day, if you can make them smile, that makes everything worth it."
Additional murals are in the near future for the playroom at the UMC pediatrics ward, where Muralcles members visit three times a month for music and crafts sessions. Work for one mural will begin after spring break.