Portraits of disabled children challenge social taboos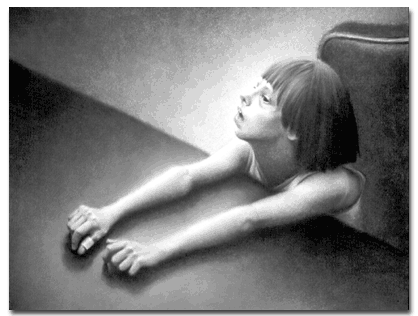 Arizona Daily Wildcat
photo courtesy of Tucson Museum of Art Rush's "Shawna" shows the elegant realism he uses in portraits of disabled children. The exhibit at the Tucson Museum of Art runs through April 2.
"The Lost Portraits" presents a compelling view of disabled children, bringing an honest realism to a subject hidden and frequently ignored by society as well as the media and art.
Chris Rush's recent works, on exhibit at the Tucson Museum of Art, spawn from his experience working with disabled children at Third Street Kids, an organization that introduces art to many children with disabilities. The portraits are drawn in a realistic manner, suggesting an aspiration toward truth and subjectivity.
Borrowing intriguing poses and compositions from the portraiture genre, Rush brings extraordinary sensibility to his models. His toned down colors make the drawings seem solemn but give them a sense of urgency and directness.
Rush's work reminds the viewer that portraiture of children has historically functioned as a means to model idealized beauty. He subverts this model of portraiture, challenging contemporary models of perfection.
His exceptionally crafted marginal subjects possess both elegance and dignity.
The portraits are titled according to the first name of the child, giving the viewer a form of introduction. The names also give the children an autonomous identity, which makes their presence legitimate.
Rush does not exaggerate physical deformities and in some of the more subtle works the line between people with and without deformities is blurred. The disabilities range from "Gloria," who appears to be a Down syndrome child, to "Kevin," whose jaw and shoulder bones are deformed.
What makes these drawings especially powerful is their ability to capture the individuality and personality of the children, and so to lift them out of ill-informed stereotypes.
Rush does not rely solely on pity or sympathy, posing the children in ways that evoke joy and security.
In "Steven," Rush portrays a child with deformed legs and arms hugging a pillow with a depressed and confined facial expression.
In contrast, "Christopher" is placed in a meditative pose with a serene and peaceful expression.
Rush's ability to portray tragedy and hindrance while communicating grace and perseverance creates a tension that makes the works both threatening and reassuring.
The moments of discomfort due to subject matter offer legitimate criticism to how society deals with the margins of society.
Seeing these children in a drawing as opposed to in person provides an opportunity for the public to experience and acknowledge the beauty and elegance of these children in a non-threatening environment.