McKasson wins Democratic primary election for mayor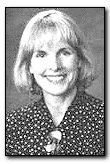 Wildcat File Photo
Arizona Daily Wildcat
"We need to create higher-wage jobs. I would like to see us really getting aggressive about a grassroots plan to build a strong, highly-educated work force." Molly McKasson Tucson City Councilwoman, mayoral candidate
With a low voter turnout of only 22 percent, former Tucson City Councilwoman Molly McKasson won the Democratic primary election for mayor last night.
McKasson, who received about 45 percent of the vote, beat Betsy Bolding, director of consumer affairs for Tucson Electric Power Co., who garnered 34 percent of the vote. Vice Mayor Janet Marcus received 12 percent of the vote, and Tucson businessman Pat Darcy got nine percent.
"It was a great team effort here," McKasson said from her election headquarters last night. "We had a lot of response from the community. I went door-to-door since February and people were really interested in the issues."
McKasson will now face Republican Bob Walkup and Libertarian Ed Kahn, who both ran uncontested in last night's primaries, in the general election on Nov. 2.
"I am really grateful to the community," McKasson said. "I'd love to see more involvement on the part of U of A students. I'd really like to have them work on the campaign and I'm extending an invitation."
About 18,000 Tucson voters participated in the election last night and about 4,000 voted on early ballots.
McKasson served eight years on the Tucson City Council and said she supports aggressively using Central Arizona Project water for golf courses, agriculture, mines and recharge projects.
McKasson said she will focus on the same issues for the general election, which includes getting a handle on the city's entire water situation.
"We need to create higher-wage jobs," McKasson said. "I would like to see us really getting aggressive about a grassroots plan to build a strong, highly-educated work force."
New growth and development will be one of the major issues in her campaign, McKasson said.
"New residential developments will have to pay their fair share," she said.