Scoreboard to be ready for Saturday home opener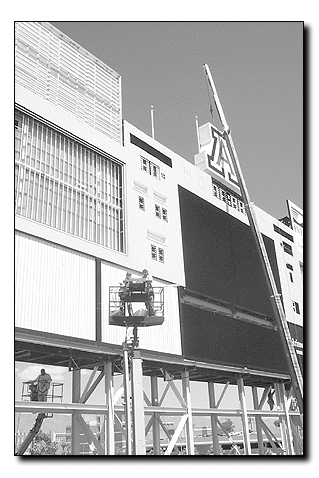 Ian C. Mayer
Arizona Daily Wildcat
Construction workers put the finishing touches on the new scoreboard at Arizona Stadium yesterday afternoon.
If you build it, they will come.
It worked for Ray Kinsella with a cornfield in Field of Dreams. Now the University of Arizona Athletic Department is set to put that theory to test with CATVISION - a new scoreboard system that is scheduled to debut at Saturday's home football opener.
UA Athletic Director Jim Livengood said the new CATVISION system will be operational by kickoff time, even though it has not been completed yet.
"It will definitely be completed by game time on Saturday night," Livengood said.
Workers from Premier Sports Marketing and officials from the UA Athletic Department have been working extra hours to ensure that CATVISION is ready by 7:05 p.m. on Saturday, Livengood said.
The result will be a new scoreboard that is among the best in the Pacific 10 Conference, he said.
"I think it's going to bring a new excitement to the stadium," Livengood said. "This will be one of the best scoreboards in the Pac-10."
The $2.8 million system will include several new features that attempt to make the game more of an interactive experience for the fans at Arizona Stadium. Besides the new replay screen, CATVISION will have a "Fan Cam" that displays UA students and other fans on the 120 feet by 50 feet scoreboard.
CATVISION also has a matrix message screen that will provide spectators with real-time statistics throughout the game. The statistics will include both teams' offensive, defensive and special teams numbers, Livengood said.
The new scoreboard which has been under construction for five weeks, is being financed through corporate partnerships.
Steve Kozachik, director of facilities and capital projects for athletics said the UA officials involved with the CATVISION system did not anticipate its completion, running this close to Saturday's game against Middle Tennessee State.
"We were hoping it would be done a little bit earlier," Kozachik said.
He echoed Livengood's comment that the project would put the UA in elite company.
"We weren't going to go and invest this kind of money for something that wasn't state of the art," Kozachik said.
Along with nine other crew members, Kozachik will operate CATVISION from the sidelines of the stadium. Three camera operators - each with a technical assistant - will be responsible for providing Kozachik with shots he can use on the screen.
Two more staff members will assist him in the "control room," while another worker will be in charge of the replay screen.