Groovy greyhounds come to the UA Mall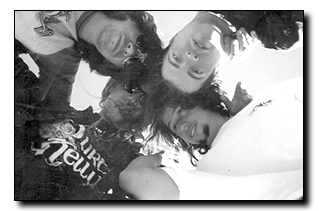 Arizona Daily Wildcat
Courtesy of Duane Hollis Greyhound Soul will be appearing at the UA Mall for "Eat to the Beat," 12-1p.m. on Thursday.
A city bus stop turned out to be one of the best things that ever happened to the members of local band Greyhound Soul. A creatively "edited" sign at a downtown bus station inspired the band's name, one that is widely known not only in Tucson, but in much of the Southwest.
Greyhound Soul formed in the summer of 1994, starting off by utilizing material created by lead singer and songwriter Joe PeŘa. Although he started his role in the group as a drummer, PeŘa now plays both the guitar and the harmonica.
But a one-man show Greyhound Soul is not. This 5-piece band also includes Duane Hollis on bass, Alan Anderson on drums, Jason DeCorse on guitar, and Bobby Hepworth on keyboards, all of whom provide an important and lasting mark on the group's unique sound.
There aren't many local bands that can provide an awards list as impressive as the one Greyhound Soul has managed to acquire over the years. Recent honors include a 1998 Tucson Area Music Award (TAMMIES) for the "Best Rock and Roll Band" as well as a 1998 TAMMIE awarded to Joe PeŘa for "Best Male Vocalist" and to Jason DeCorse for "Best Guitarist." Greyhound Soul also received a 1997 TAMMIE for the "Best Alternative Rock Band" and was voted "Best of Tucson" in the Tucson Weekly's Reader's Poll in September of 1996.
So what is it that makes this group tick? Critics agree it's the eternal sound of old- school rock 'n roll paired with truly profound lyrics. With the release of their debut CD Freaks (Redbeard Records, 1996), Greyhound Soul gained a new sense of public admiration and popularity among a world full of petty rock bands.
Growing up in Elgin, Texas, a small town just outside of Austin, PeŘa adds a touch of hometown flavor to the album. "Grass" is a track exemplifying that flavor with lyrics such as "Daddy didn't come home again last night. Mom is in the kitchen pretending everything's alright." The CD's title track "Freaks" speaks for itself. The song starts out slow and soulful and works its way to an angry chorus, something not uncommon of Greyhound Soul's music.
Greyhound Soul has made itself well known throughout much of the southwestern United States, touring anywhere from San Diego, Calif. to Austin, Texas, near PeŘa's hometown. The band has also toured with several nationally recognized acts including Jason Bonham, son of Led Zeppelin's famous drummer, and even the widly popular Goo Goo Dolls.
Be sure to catch Greyhound Soul live at "Eat to the Beat" on the UA Mall Thursday from 12 - 1p.m. "Eat to the Beat" is a weekly event sponsored by the University Board of Activities (UAB). Acts range anywhere from homegrown, local bands to larger acts such as Greyhound Soul. Anyone interested in booking stage time can contact the UAB at 621-1111.