Proposed changes in policy could limit smokers' options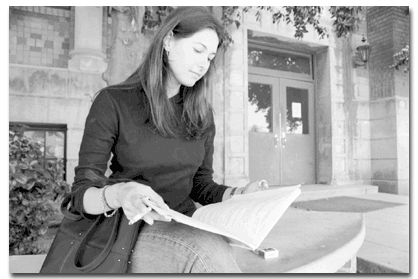 Sarah Brown
Arizona Daily Wildcat
International studies junior Karima Ryan takes a cigarette and study break in front of the Chemistry building yesterday afternoon. A proposed change in policy would prohibit smoking within 25 feet of any university building, air intake or vehicle.
UA smokers may be losing ground - 25 feet, to be exact - around university buildings, air intakes and in university vehicles.
Arizona already has a policy that bans smoking in all state-owned buildings - which includes universities - and a proposed change in the University of Arizona's smoking policy would also prohibit smoking within 25 feet of UA building entrances.
"It's an issue of tobacco smoke filtering through the buildings," said Melissa McGee, health educator for the Campus Health Service. "There was no location that would not be impacted."
McGee said most of the ventilation systems on campus are old and therefore cannot filter out the smoke.
Campus Health officials have received complaints from students and staff members about smokers outside UA buildings, according to a press release.
"It does no good to have a non-smoking building when you have to walk out of that building through a cloud of smoke," said Amanda Martin, an ASUA senator and a biochemistry junior.
The policy changes were drafted by the Campus Community Health, Wellness and Safety Committee, which is composed of UA representatives.
Though the proposed changes would make the policy more restrictive, there would still be exceptions to the rules.
Two UA residence halls - Corleone Apartments and Babcock Inn - permit smoking within the buildings, said James Van Arsdel, UA director of Residence Life. Smoking would also still be allowed at the outdoor concourses of McKale Center and Arizona Stadium.
Stairwells that are open to the outside would be the final exemption.
"We need to tighten (the policy) up and do away with those exceptions," McGee said.
Campus Health is now informing UA organizations to get feedback on whether students and faculty support the changes and to gather suggestions pertaining to the proposal.
At the next ASUA meeting, McGee will present the changes to the senators. Other members of Campus Health will bring the proposal to the Faculty Senate, the Staff Advisory Council and the Appointed Personnel Organization Council.
Martin said she expects the changes to be supported by ASUA.
"I think its something that we'd all agree with," Martin said.
ASUA Executive Vice President Ben Graff said he isn't sure the Senate will support the ban, but said the student body needs to be informed of the policy change.
"With any issue that affects a certain group of students, to be fair to all students we need to hold some kind of public forum," said Graff, who is also ASUA's president-elect. "I'm not in favor of making a decision without student input."
Once the committee has received feedback from the selected UA organizations, they will that review the proposed changes and determine whether or not they need to be altered.
At that time, the changes will be presented to the President's Advisory Committee so that UA President Peter Likins can determine whether the university will adopt them.
"They'll give us feedback and then we take it to the president," McGee said. "We want to pursue that avenue to make our campus a healthier campus."
The entire process is expected to be finished April 14.