UA students march against rape, domestic abuse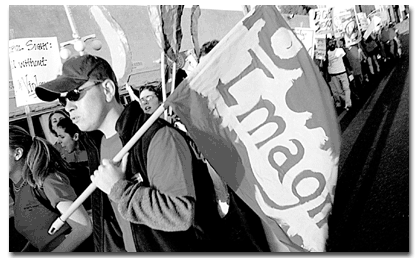 Arizona Daily Wildcat
Photo by: DANIEL KEMPNER
Sociology junior James Sosa joins the fight against violence towards women and children in the annual Take Back the Night march last night. The march was sponsored by Campus Acquaintance Rape Educators (CARE) and the Women's Resource Center.
About 75 UA students last night helped fight against rape and domestic abuse with the third annual Take Back the Night march.
Men and women chanted, "people unite, take back the night," and "open your window, open your door, help us win this social war," as they walked along the western outskirts of campus.
Kate Schroll, co-director of the University of Arizona Women's Resource Center, said Tucson normally has a city-wide Take Back the Night, but this year's event had been canceled - making community involvement especially important for the University of Arizona's march.
This year's turnout was greater than last year's, Schroll said.
"I think that from here on, it's just going to grow," she added.
Economics junior Adam Lawson said he participated in the march because he believes the streets should be safe - especially for women, who face greater fear of violence.
"I believe in the idea that people should be able to walk around free of any fear," Lawson said. "I feel for them (women), and I think they need to be supported."
The march was co-sponsored by the UA Women's Resource Center and the Campus Acquaintance Rape Educators organization.