Laxcats return home against NAU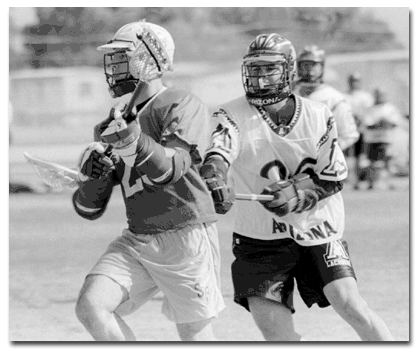 Jennifer Menditch
Arizona Daily Wildcat
Laxcat junior defenseman Tom Christian applies defensive pressure to a UC Santa Barbara opponent on Feb. 12. Arizona hosts NAU this weekend at Wildcat Field and are 4-0 in the West Coast Lacrosse League.
After two weeks on the road, the Arizona Laxcats are happy to be back playing at home.
The Laxcats (6-3 overall, 4-0 in the West Coast Lacrosse League) take on the Lumberjacks of Nothern Arizona University tomorrow night at 7 p.m. at Wildcat Field.
"It is always great to be playing at home," head coach Mickey-Miles Felton said. "Now it is time to start getting focused on the playoffs."
The Laxcats beat the Lumberjacks last fall, but Felton was not completely satisfied with the victory.
"We let them stay in the game," Felton said. "It is going to be a different game this weekend."
Some good news for the Laxcats this weekend is the return of sophomore goalie Greg Parkington, who has missed this entire semester after breaking his hand in late January.
As of now, the job still belongs to Parkington's replacement freshman Kevin Burgess who has filled in for him all semester and has done a remarkable job.
NAU will be playing the game with 16 players.
"We should definitely have a numbers advantage over them," Felton said.
Felton is hoping he can use this weekend to work on some things the team needs to practice before it's road trip next weekend for a three game series in Michigan.
"I think we need to improve on offense and defense," Felton said. "On defense we need to be aggressive when the time is right and force them into mistakes."
The most important issue the coach addressed to his team is that the Laxcats need to play at their level and not play down to NAU's.