Women's studies celebrates 25 years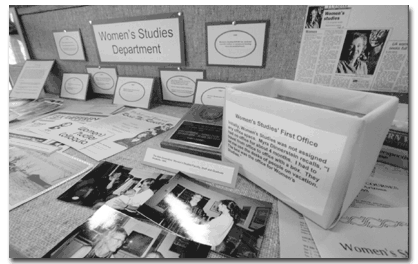 Arizona Daily Wildcat
The UA's Women's Studies Department has come a long way since it began in 1975.
"We started out very small, with not much faculty or many courses, but we have been very successful over the years," said Myra Dinnerstein, women's studies research professor, who helped found the program.
An exhibition is on display for the month of March at the University of Arizona Main Library in honor of the women's studies 25 year anniversary.
The exhibition is also honoring 20 years of the Southwest Institute for Research on Women and 15 years of Women's Studies Advisory Council, which are community organizations that raise money for scholarships.
"I had suggested that we have this exhibit during the month of March for Women's History month," librarian Ruth Dickstein said.
The exhibit includes objects donated by different women's studies faculty members who wanted to show the places they had been and their research.
On display are a pair of gloves with the finger tips cut off, which were donated by history professor Laura Tabili.
"Tabili wore these gloves when she was researching British women's history in Britain because of the cold weather and the dirty documents she handled," Dickstein said.
One of the display cases includes pictures of the founding mothers of the department and letters trying to establish the program at UA.
Other cases have books published by UA faculty members and pictures of their research, which include anthropology, communication, Judaic studies, Asian studies, African literature and media arts.
Elizabeth Kennedy, women's studies department head, said she was impressed with the exhibition.
"I thought it was wonderful because it showed the research and hard work of the women's studies faculty," Kennedy said.
Dinnerstein said she thinks the future of UA women's studies will be positive.
"We have a well-established and respected program and a very supportive president," she said.
UA now offers 40 courses in women's studies each semester for 1,600 undergraduate and graduate students.
"We have 60 students declared as women's studies majors and nine core faculty members. We also have 60 affiliated faculty members," Kennedy said.