UA dean explains theory of advising roles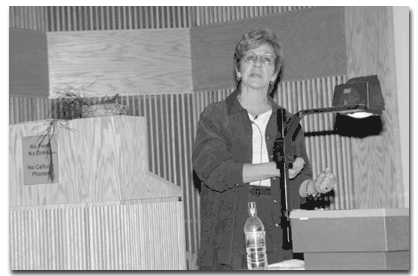 Arizona Daily Wildcat
Lynne Tronsdal said she wears a babushka when meeting with students for academic advising.
"I began my job wearing a beanie, but now my biggest challenge is to wear a bowler," Tronsdal said.
Tronsdal, University College associate dean, gave a speech Wednesday entitled, "Which hat do you wear - a beanie, a babushka or a bowler?" to a crowd of about 45 people at the Center for Creative Photography auditorium. She explained the idea that there are three ego states advisors can have when advising students.
The first role - one who wears a beanie - is the child, which covers two areas. The natural child is the type of person who acts spontaneously and openly, while the adapted child is more trained and uses defense mechanisms, which include isolation and withdrawal.
One who wears a babushka (a scarf worn on the head) while advising plays the role of a parent.
"Everyone has the nurturing and caring personality of a parent inside of them," Tronsdal said.
When people shake their fingers because of something done wrong, or enforces rules and authority, they are playing the role of a parent, Tronsdal explained.
The third role of an advisor - one who wears a bowler - is the one who acts like an adult.
"An adult is classified as someone who is objective and makes logical decisions," Tronsdal said.
Tronsdal said if an advisor has all three of these ego states, they can be the perfect advisor.
Norma Ayon, a media arts advisor, said she thinks students do have the opportunity to meet with advisors, but the communication can sometimes be lost.
"It's hard for students to ask the right questions, so my challenge is to remove the obstacles in our way to help them," Ayon said.
Ayon said she has been told by the media art faculty that she wears a bowler when dealing with students.
"I agree with them, since I know the curriculum so well and I make sure students are aware of their options, which falls under the adult (ego state)," Ayon said.
A couple of years ago, Tronsdal's students put together a list of the qualities advisors should have, which include being an educator, a mentor, a negotiator and a friend.
Tronsdal now uses this list to help explain the idea of the ego states.
Students don't have much of an opportunity to speak with adults to talk about themselves, Tronsdal said.
"Students must see an academic advisor, but there is not much structured time for them to meet with professors or other faculty members," she said.
Tronsdal added that when students do sit down with an adult, they have expectations as to which hats should be worn by the advisor, and are disappointed when it is the wrong one.
Tronsdal said she enjoys watching students develop and being a part of their progressive change.
She added that advisors should decided which hat comes naturally to them, and for students to realize there are different roles the advisor can play - not just the adult figure that they assume.