Urban Outfitters comes to Main Gate Square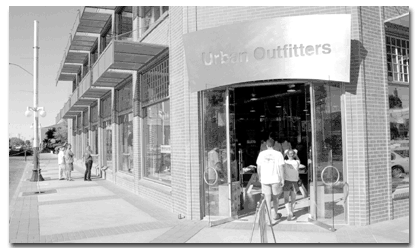 Matt Heistand
Arizona Daily Wildcat
Customers enter Urban Outfitters located at 901 University Blvd. Urban Outfitters opened for business on Friday.
Urban Outfitters, a retail chain located throughout the United States and Europe, opened its newest store Friday on East University Boulevard.
The sales staff, composed entirely of University of Arizona students and the manager, said they hope to cater to modern collegiate style.
"Our Tucson Urban Outfitters is set in the new, urban style," store manager Melissa Missar said. "It is a metallic, sleeker, more modern look. But our main objective is to appeal to our customers, the UA student body."
Josh Burell, Urban Outfitters' district manager for the Southwest, said the mix of music and visuals used in the store creates a cutting-edge environment.
"The University of Arizona is a big school," Burell said. "It's also a great campus and location. The company saw the University as a market that could definitely support an Urban (Outfitters)."
Burell hired a staff of only UA students because he believes the store's employees need to be the same as customers. He said it does not matter what the employee looks like, but he or she should reflect the customers' fashion interests.
The latest Urban Outfitters emphasizes an ultra-modern look to match the new millennium - a style students are glad to see.
Many of the employees agreed that Outfitters sold clothes they would wear, and that was a reason they wanted to work there.
"This is the style that I like, so I wanted to work here," studio art freshman Jessica Siani said. "Our style is alternative and unique - different from the preppy look. We have a definite edge to our merchandise."
Outfitters staff members said they want to set the fashion pace for the entire Tucson area by straying away from basic monochromatic fashions.
Burell said this "more fashion forward" approach produced a better customer turnout on opening weekend than he expected.
"We sell housewares, shoes and clothing," he said. "We are more than a clothing store - we're a lifestyle store."
UA students expressed excitement for the most recent addition to the shops on East University Boulevard.
Brooke Weinstein, a communication freshman, said the UA campus needs more stores and a better variety in clothing choice.
"(Urban Outfitters) is a good start," she said.
Outfitters employees said they want to give UA students the opportunity to express their personal style, while offering the option of some classic clothing items.
"Campus is finally getting an edgy style," Siani said. "This school is a walking advertisement for Abercrombie & Fitch."
Burell said that although Urban Outfitters is a corporation and subject to uphold certain consistencies, "each store is unique, which makes them different than the Gap or cookie-cutter chains."
Employee and retail sophomore Natalie Kreger visited the Outfitters in Tempe and said she fell in love with the store.
"The atmosphere is great to work in," Kreger said. "Our style is always changing because we are more New York alternative, while still maintaining conservative pieces."
Many of the employees agree Urban Outfitters is constantly creating exciting trends. Some said they believe these trends will assimilate into popular styles around the UA campus.
"The store is cool," undeclared freshman Jenn Lambert said. "There is a lot of household items which will be great for my apartment next year."
Lambert admitted that the Tucson Urban Outfitters' merchandise was a unique style of clothing she had not previously seen.
"I've never been to an Urban before," she said. "I guess I'm just from Smalltown, America."
Lambert says she likes the store's variety of merchandise.
"It will be a popular addition to the university," she said.