UA professor receives national teaching honor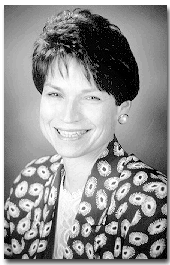 Arizona Daily Wildcat
A professor and assistant dean of the UA College of Pharmacy has been named a 2000-2001 scholar by the Carnegie Academy, a national education organization.
JoLaine Draugalis was chosen along with 40 other faculty members nationwide who will work together to create new conceptual models for teaching.
"We are very happy to have a faculty member receive such an honor," said J. Lyle Bootman, dean of the College of Pharmacy. "The college is one of the top five institutions in the United States, and it is faculty such as Dr. Draugalis who contribute greatly to this reputation as we become closer to our goal of becoming the No. 1 program in the country."
"All of our faculty, staff and student body are extremely proud of her accomplishment," Bootman added.
This award will allow for travel to three conferences throughout the year in which the scholars will be able to share information and discuss research with one another.
"You have the ability to interact with a lot of people from many different professions," Draugalis said.
Draugalis submitted a proposal for research that included a three-pronged research design. She will be developing a system of assessment and documentation for teaching and learning.
This system would provide faculty with the information that they need to improve their teaching by enabling the administration to award professors appropriately for excellence in teaching and to conduct a demonstration of this new system.
Carnegie Scholars serve a one-year term in which they investigate and document issues in the teaching of their respective fields.
This program has been in place for three years and it has grown from 15 scholars in its first year to the present number of 40.
Draugalis, who joined the college faculty in 1989, is conducting research on pharmacy education, program design, administration and evaluation as well as educational applications in pharmacoeconomics.
She has been given the Basic Science Pharmacy Educator of the Year Award from the College of Pharmacy during four of the last 10 years. She was also named the Distinguished Pharmacy Educator by the American Association of Colleges of Pharmacy in 1998.
Draugalis received both her master of education and doctor of philosophy degrees from the University of Arizona.
"I am looking forward to being able to enhance my research and my teaching," Draugalis said.
The Carnegie Foundation was founded in 1905 by Andrew Carnegie. Its purpose is "to do all things necessary to encourage, uphold and dignify the profession of teaching."