Woods says the NBA can wait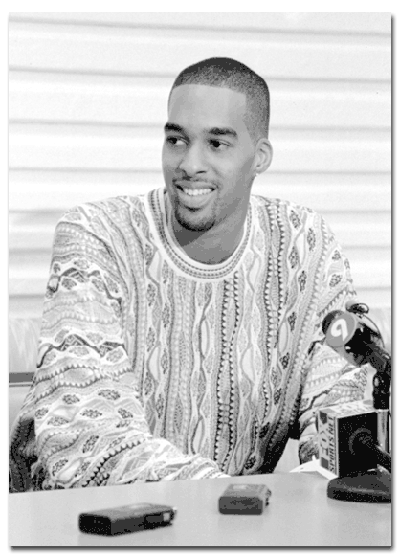 Arizona Daily Wildcat
Surrounded by teammates, friends, other UA athletes and a plethora of media members, UA junior center Loren Woods put smiles on the faces of Wildcat fans around the nation.
In a press conference held yesterday afternoon at McKale Center, Woods announced he would stay for his senior season at Arizona instead of entering the NBA draft early.
"I have gained a lot of information for both ways - staying and leaving - and over the last few weeks I have been weighing my options very heavily, so I decided to put off the NBA for one more year and return for my senior season," Woods said in a prepared statement.
His decision brought a loud cheer from the on-looking bystanders, while also bringing thoughts of next season to some of the other UA players.
"Maybe a preseason No. 1? If we are not No. 1 than there is something wrong with the polls," sophomore swing forward Richard Jefferson said. "If we are not No. 1, I think surely we will prove that we are the No. 1 team in the country."
Before telling everyone of his decision to stay, Woods held everyone in suspense for about 10 minutes, uttering his thought process on whether he should stay or go and giving the pros and cons of each.
"If I went to the NBA I would have to put my foot forward and give a 100 percent effort. I couldn't turn my back and say I should have done this, I should have done that," Woods said. "Or, if I stay in school I would have to put forth 100 percent effort just to show people that my back is okay and I would still be able to be a top pick next year."
Woods also added the decision was not an easy one to make.
"This is a real tough decision for me. I have been pulled in so many directions in the past few weeks, especially with my injury and a lot of people still saying I would be considered a high pick," he said.
After finally announcing he was staying, UA associate head coach Jim Rosborough spoke on behalf of the coaching staff since head coach Lute Olson was out of town.
"How's that for suspense," he said. "A roller coaster the whole way, he's going, he staying, he's going, he's staying. I think this is a great decision for all of us and I am very happy for Loren."
Now that Woods is returning for his senior year, he can also concentrate on graduating with his family studies next May.
"Being in college is a part of life that you should go through. Finishing school wasn't a big thought, but since I am staying I will be on course to graduate next year and that is where my eyes are focused on right now," Woods said. "I know we are going to have a good team, I know I am going to play well, now it is just a matter of me being focused on school and getting my degree."
Woods' decision to return may also have been influenced by his former teammate at Wake Forest, Tim Duncan of the San Antonio Spurs, who decided to return for his senior season when he clearly would have been a top-five pick in the NBA draft following his junior year.
"Just by knowing Tim and the type of person he was, he definitely got better when he came back for his last year," Woods said. "He proved in his senior season everything he had done the year before - player of the year candidate, first team All-American. By me coming back I will definitely be a better player, but I will also be a better person on and off the court."
Woods said his final decision, which was not made until 40 minutes before the press conference, did not have anything to do with the money he could make in the NBA this year or next.
"A lot of people not close to the program have been telling me to leave and go for the money, but I have never played basketball for the money," he said. "It's nice, but I have always played for the love of the game and prove to myself that I could play with the best players."