Wildcats open Pac-10 play against Oregon schools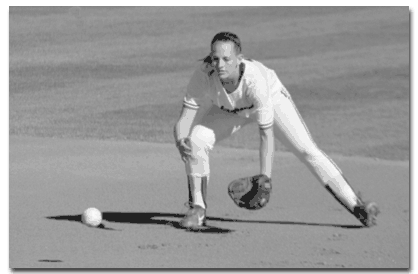 Matt Capowski
Arizona Daily Wildcat
UA senior second baseman fields a ground ball earlier in the season. The Wildcats open Pac-10 play tonight with a game against Oregon. All eight Pac-10 softball teams are currently ranked in the top-25.
With all eight Pacific 10 Conference teams ranked in this week's USA Today/NFCA top-25 poll, the UA softball team faces a daunting challenge as conference play begins today.
First up for the No. 2 Wildcats is a game against No. 23 Oregon and then games with No. 11 Oregon State tomorrow and Sunday.
"We know that in the Pac-10, every team is strong," junior pitcher Becky Lemke said. "We all got to step it up, if we play Arizona softball, then, we'll be fine."
The Wildcats (36-3 overall) will be led by the pitching duo of Lemke and sophomore Jennie Finch.
Lemke and Finch have combined to allow only 20 earned runs in 243 innings this year.
Seeking to end her two-game losing streak, Lemke will most likely pitch the game against Oregon (23-11) tonight at 6.
The Ducks come into Tucson having played some of their best softball of the year, after going 6-1 last week.
"Oregon is still a real good team, they have a lot of free swingers," Lemke said. "We just got to take it to them."
They are led by junior infielder Triawn Custer, who is hitting .446 with six homers and 23 RBI.
Leading the way in the circle for the Ducks will be freshman Andrea Vidlund, who is 12-3 with a 2.50 ERA.
Arizona's offense will be ready after it struggled mightily in the first game of Tuesday's upset loss to New Mexico State.
The UA regained its offensive muscle in the second game by scoring seven runs, five of which came on home runs from junior catcher Lindsey Collins and senior right fielder Chrissy Gil.
The Arizona offense is lead by junior center fielder Nicole Giordano, who is hitting a blistering .488 and went 4 for 7 at the plate against New Mexico. She also has a team-leading 63 hits and 36 runs scored.
Providing the power for the Wildcats is Finch, who has 14 homers, and Collins with 10.
Tomorrow and Sunday's contest against the Beavers (26-6-1) will be even more challenging, as Oregon State has steadily moved up in the rankings all season long. Senior infielder Tarrah Beyster leads the Beavers and their four-game win streak into Tucson.
Beyster is the reigning Pac-10 Player of the Week after leading Oregon State to a second place finish in last weekend's Bank of Hawaii Tournament, where she hit .467 with five homers and nine RBI.
"I just want our team to do well," left fielder Lauren Bauer said. "It is really tough because we look at Oregon State as the better team, but we really have to focus on Oregon. We can't look past them."