'Price of Glory' explores the dynamics of a boxing family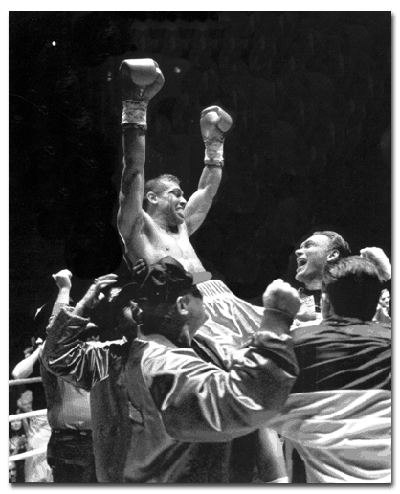 Arizona Daily Wildcat
Movies traditionally teach people that where a young athlete is determined to succeed, there is also an overaggressive, pushy parent trying to live out their own failed dreams.
"Price of Glory" is no different.
In the tradition of like-minded "Varsity 'I don't want your life' Blues," "All the Right Moves" and a mind-numbingly large number of other sports movies, this movie recycles tired and clichˇd narratives. It was written by a former sports writer after all.
Playing the overbearing father and former boxer is Jimmy Smits in his first post-"NYPD Blues" role. He brings a refreshing energy and jovial bravado to the hard-edged, macho father figure blinded by his unrestrained obsession with the success of his three sons' boxing careers.
Arturo Ortega (Smits) believes he is helping his family in addition to helping his sons realize their dreams.
Of course, he's wrong.
Arturo neglects his family in favor of his sons' boxing careers. As a result, his oldest son Jimmy (Clifton Collins Jr.) turns to drugs - although this plot line is solved with sitcom simplicity.
Arturo's middle son Sonny (Jon Seda, a dead ringer for Val Kilmer and a former Golden Gloves boxer) must contend with his father when he wants to marry his girlfriend, an act which could threaten his boxing career.
"Price of Glory" explores the delicate balance between autonomy and dependence between a son and his father. The youngest son Johnny (Ernesto Hernandez) is the most dedicated to his father.
In Jimmy's case, too much independence divorces him from his father's teachings, and he ends up going astray. Too little, however, causes a more dire result, as represented by the mournful fate of Johnny.
It is Sonny - the character emblematic of the appropriate balance - who is able to succeed, maintaining his own wish for independence and his own family while sustaining a parent-to-child bond.
The movie also juxtaposes capitalist greed and exploitation (epitomized by the smarmy boxing promoter Nick Everson) with family values, born of heritage and tradition (which Arturo represents despite his lesser qualities).
The narrative of the film is largely an exploration by the three sons between these extremes, as they try to position themselves within the context of family and career.
However, all of this bubbles under the surface of a trite plot that has been done ad nauseum by other sports films. Some of the only elements that differentiate it from every other sports movie are Smits' flashy smile and soulful acting style.
Additionally, debut director Carlos Avila and screenwriter Phil Berger heap local color and ethnic undertones of a contemporary Mexican-American family into the film - separating it from other sports movies.
"Price of Glory," however, can count itself among the better half of these movies. Avila transitions beautifully and draws a taut narrative that deftly explores the dynamics between the characters.