New Edward Norton film faithful to comedy and religion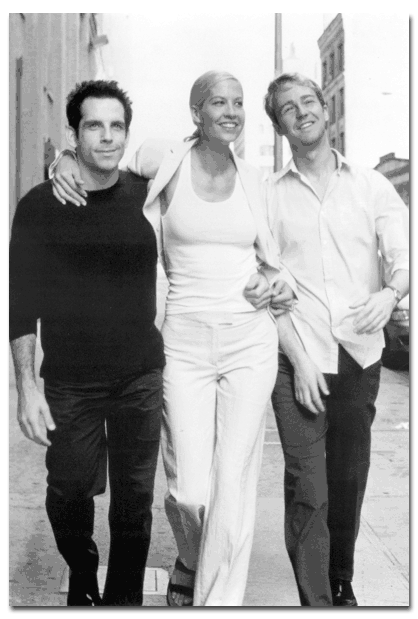 Arizona Daily Wildcat
A priest, a rabbi and a blonde. This may sound like the beginning of a joke, but rather, it is the subject of the new religious romantic comedy appropriately titled "Keeping the Faith."
While the movie is certainly not the funniest comedy to come out in recent years, it contains a good deal of substance, keeping the story alive in between the humor.
Rather than simply hashing out the same old, tired plot with little attempt at originality or social commentary, "Keeping the Faith" addresses themes and issues untouched by typical romantic comedies.
Imbedded within these issues are Jake the rabbi (Ben Stiller) and best friend Brian, a Catholic priest (Edward Norton), who are both enticed by Anna (Jenna Elfman), an old friend who reenters their lives after years of separation.
Her return sparks moral controversies for both Jake and Brian, who immediately fall in love with the woman. While Brian, sworn to a life of celibacy, struggles with his sexual impulses, Jake is faced with his desires for a shiksa, or non-Jew.
Stiller ("There's Something about Mary") and Norton ("Fight Club") do an excellent job conveying the humorous aspects of these dilemmas, as both consider leaving their posts for Anna.
Along with Elfman ("Dharma and Greg"), the three actors maintain a fantastic balance of charm and humor throughout the entire film, easily pulling the viewer into their entanglement of love and religion.
In his first full directorial debut, Norton does a commendable job balancing out the two faiths of Christianity and Judaism, presenting both the good and bad sides of each, while never allowing one to dominate the focal point.
Norton, as director, always manages to keep the viewer's attention on the three leading characters. However, he also tosses in a few distractions, a needed diversion from the serious unfolding love triangle between Elfman, Norton and Stiller.
Among these is a subplot involving Stiller and his overbearing, highly stressed out mom, played to perfection by Anne Bancroft ("The Graduate"). Bancroft, in each of her scenes, adds a touch of motherly emotion and intelligence by questioning her son's faith.
For example, when Bancroft tells her rabbi son he should not be dating a non-Jew, tension arises, and the audience begins to foresee a confrontation between mother and son.
Other distractions in the form of supporting players include a very humorous - if not somewhat strange - karaoke salesman with a tendency to sing cheesy romantic music to customers upon arrival at his store.
Norton keeps this and other subplots well balanced, so that the entire film flows together until a satisfying ending that helps take this film a step above the typical "date film."
The film is not without its flaws, however. The most notable of which is that the lead character is not established until late in the film. At first, it seems as if it would be Norton, who sets up his relationship with Stiller and Elfman through the use of flashbacks.
But then, the story shifts dramatically, focusing more on the rabbi-shiksa element.
Father Brian is reduced to a love-struck friend who just happens to be a priest. For fans of Norton, this may not be enough.
Still, "Keeping the Faith" is certainly filled with enough light-hearted moments and romantic substance to keep the most diehard comedian entertained and interested between the few scenes where they will be laughing themselves straight to hell.