Renowned UA saxophonist showcases musical talent tonight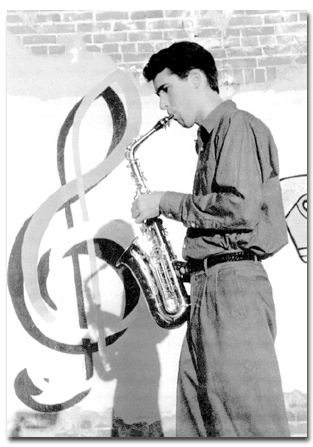 Arizona Daily Wildcat
photo courtesy of Mike Hay Saxophonist Mike Hay, a music composition senior, displays his award-winning talent. Hay will be playing at 8 p.m. at the Matt Bevel Institute, 530 N. Stone
Performance is part of Zeitgeist jazz festival
Accomplished saxophonist and composer Mike Hay will have a new accolade to add to his resume tonight, when he performs at the Matt Bevel Institute,.
Hay, a music composition senior, has received numerous awards and won several prestigious jazz competitions.
"The awards are an extra bonus," he said. "I don't play music to win awards, but it helps."
Hay won the first place award in the Tucson Symphony Young Artist Competition, the University of Arizona Fine Arts Creative Achievement Award in Music and is also the winner of the 2000 North American Saxophone Alliance jazz competition.
Although he is proud of these accomplishments, Hay stressed that his true motivation is his love for music and composing.
Hay said he chose the saxophone as a child because he always wanted to play jazz.
"I knew the high school band was looking for sax players," he said. "So I started to learn in fifth grade."
Composing was born out of his love of music and the saxophone. He believes that writing music and seeing others perform is an exhilarating moment.
"Composing just sort of happens," Hay said. "Normally, I get a small idea. Eventually, it will spawn into a full composition."
Hay said he was fortunate to have teachers who made an extra effort to appreciate jazz and show him how to make his music memorable.
While he was still in high school in Los Alamos, New Mexico, he took monthly drives into Albuquerque for private lessons at the University of New Mexico. Hay said teachers there, including Dr. Carrie Kofman and Dr. Michael Hester, influenced his musical style.
"In terms of playing," Hay said. "Private lessons does wonders."
In addition to earning accolades and a professional reputation, Hay was a part of Sax-Mania, a sax quartet group that resembled a string quartet.
"It was a fabulous group, fun group to be apart of," he said. "Rehearsals were always amusing."
At this point in his career, Hay is looking to do other things than Sax-Mania - he is focusing on different musical aspects.
Hay mentioned there are difficulties juggling academic and professional aspects of his life.
"Trying to find time to do everything is difficult," he said. "Sometimes, I adjust work on composition, other days are for sax. Finding a balance is hard - feels like I'm being pulled in two different directions."
Hay has many musical idols who take jazz to a "new level," but his most influential musician is saxophonist Dexter Gordon.
"No one lays back on the beat like Dexter," he said. "He had the best feel of sax players - a real full sound that's laid back. He made changes all over, which is a cool contrast in the music."
Hay said he wants to make an impact similar to Gordon's.
"When I write and play, I try to keep some kind of vehicle to keep (the music) as exciting as possible," he said. "The great thing about jazz, is it's kind of improvisational.
"Jazz uses various styles. It combines funk oriented, hip hop, or a world beat. It is a melting pot of different styles."
After Hay earns his bachelor's degree, he might attend graduate school in a large metropolis, possibly focusing on film scoring.
Hay will be performing tonight at the Matt Bevel Institute, 530 N. Stone at 8, and tickets cost $5.
Tonight's show, part of the Zeitgeist festival, promotes fresh, talented voices in the jazz world, Hay said.
"The series focuses on those who take jazz in different directions," he said. "It's part of the emerging artists' series. There is a show the first Monday of every month, through May."