GOCAIA gallery features artistic evolution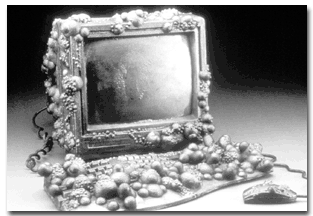 Arizona Daily Wildcat
Artists revisit past, compare old works with recent pieces
"Then and Now," an exhibit designed to compare artists' earliest and most recent career works, opened Saturday at GOCAIA, the Gallery of Contemporary and Indigenous Art, in the company of several featured artists and local supporters.
"We tried to put together a show from artists who have been working for a long time," said gallery curator Moira Geoffrion. "We have a few young artists whose work only spans eight to 10 years."
Featured artist Frank Sheriff equates his artwork and sculpture to planting trees, and said an epiphany 22 years ago while planting trees in his Oregon backyard helped him redirect his life towards art.
"I deal with symbols I pick up from places and travels. These two pieces are only related in terms of technique," he said about his featured artwork.
Sheriff's featured pieces are "Matrix and Manner" and "Computer Virus." "Matrix and Manner" was created to symbolize things fragmented.
UA professor Barbara Penn was also available at the exhibit's opening celebration to comment about her "old and new" pieces.
"Between my pieces then and now, I have an entire other body of work that isn't even represented from the decade in between," said Penn about her two featured pieces.
She also said her recent works tend to embody more personal and direct themes because she only works on each for a short time. Penn said her older pieces tended to be three-month "installations" which involved many themes and ideas.
In Penn's personal statement available at the gallery, she listed poet Emily Dickinson and her grandmother A.E. Hammond as personal inspirations. Yet, having been a University of Arizona professor for close to a decade, Penn has added her students to that list.
"It's very stimulating to be around students who are always thinking and changing ideas," Penn said. "I am inspired by the commotion in the class."
Adding a new dimension to the gallery opening, "Then and Now" was partly curated by several UA interns affiliated with the GOCAIA, 302 E. Congress St.
The interns were put in charge of contacting select artists, visiting their studios, discussing their artwork and finally deciding which pieces would be most appropriate for the gallery.
Fine arts junior Susie Aminian was in charge of contacting up to eight artists, including Penn, who teaches painting, drawing and combined media.
"I helped decide where the artwork would look best in the gallery," said Aminian.
She also emphasized the importance of displaying all the artwork carefully so it would not distract from the meaning of other featured art.
"Then and Now" runs through May 20 and can be seen at GOCAIA from Tuesday through Saturday from 11:30 a.m. to 5 p.m.