Torres, Wildcats rip Huskies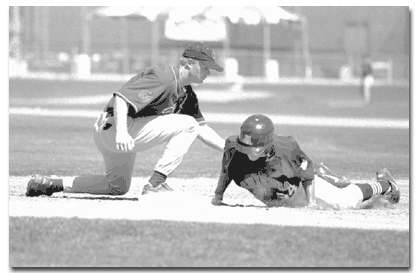 Matt Heistand
Arizona Daily Wildcat
Freshman infielder Matt Abram dives safely into first base during a recent game at Sancet Field. Arizona took two of three games from Washington last weekend in Seattle.
'ET' phones home three times in Saturday win
It turns out UA pitcher Ben Diggins is human after all.
A strange season got even stranger last weekend as the Wildcats took two of three games from Washington in Seattle. It was the first time Arizona had traveled to Seattle in the program's history.
In the weekend series, UA senior Ben Diggins lost his first game of the season and third baseman Erik Torres homered three times in one game as the Wildcats won their first Pacific 10 Conference series of the season.
Arizona (20-21 overall, 5-7 in Pac-10) dropped Friday's contest, 6-2, only to win Saturday and Sunday's games by the scores 14-8 and 3-2, respectively.
Friday's loss was attributed to Diggins (8-1, 2.48 ERA), whose eight-game personal winning streak was snapped.
"Diggins is our Big Unit­, so it was kind of strange to see him lose," junior third baseman Erik Torres said. "The rest of the guys stepped it up."
Diggins, Baseball America's top collegiate prospect, was beaten by the Huskies' Jeff Carlsen, who improved his record to 5-1 by striking out seven Wildcats and allowing just four hits in the victory.
Sophomore Kenny Huff and senior Rob Shabansky each hit solo home runs, accounting for UA's only RBIs.
While Friday's game marked a milestone for a UA pitcher, Saturday's game was big for Wildcat hitters.
Junior Erik Torres hit three of Arizona's school-record six home runs as Arizona defeated UW, 14-8.
Torres became the third Wildcat in school history to hit three home runs in a single game.
"I just go out there and try to perform whenever I get the chance," Torres said. "I had a career day."
The last UA player to reach such a milestone was Ron Hassey, father of sophomore second baseman Brad Hassey, who hit three home runs against Weber State in 1974.
Torres, who had played sparingly of late due to a hitting slump, is hoping to parlay Saturday's effort into the regular starting job at third base.
"I hope I bring a spark to the team when I play," he said. "Slumps are a part of baseball, it's just strange to slump in your junior year."
Diggins, Trevor Mote, and Ernie Durazo each added home runs for the Wildcats, who last homered six times in one game in 1974.
In yesterday's rubber match, the Wildcats used pitching and defense to fend off the Huskies. Seniors Rob Shabansky and Tony Milo combined to allow only two runs on three hits in the victory.
Shabansky was forced to leave the game in the fourth inning after taking a line drive off his leg. Milo, who was forced to leave April 2nd's outing against Southern California after being hit by a batted ball, allowed only one hit in five innings of work.
Torres is encouraged by UA's ability to stay in games despite losing sophomore Shelley Duncan - the team's home run and RBI leader - to a partially torn elbow ligament two weeks ago.
"It's terrible what happened to Shelley," Torres said. "But we're a Division I school and can fill his shoes. UA baseball is going at it despite everything."
The Wildcats return to the road next weekend with a series at Oregon State.