Another tournament, another title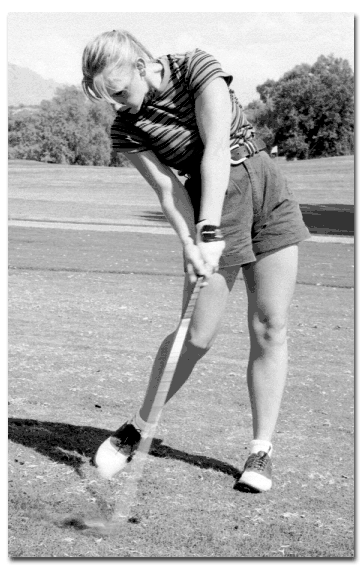 Matt Heistand
Arizona Daily Wildcat
Senior Jenna Daniels practices her short game at a practice this season at Randolph Golf Course. Top-ranked Arizona won its fifth straight tournament last weekend at the Ping/ASU Invitational in Tempe.
No. 1 women's golf team wins fifth straight in Tempe; Daniels takes top honor
The Arizona women's golf team is quietly turning this season into a red and blue massacre.
In Tempe last weekend, the assault on the record books continued as the Wildcats turned a close tournament into a blowout yesterday at the Ping/ASU Invitational at the par-72 Karsten Golf Course.
Arizona, which was tied for first with Arizona State at 9-over-par after Saturday's second round, shot a 1-under-par 287 yesterday for the team's fifth straight tournament victory, a new UA record.
"I feel we're more prepared than any team in the country," said UA head coach Todd McCorkle, adding that Arizona has the lowest final round scoring average in the country by about six strokes.
Senior All-American Jenna Daniels, the top collegiate women's golfer in the country, continued her dominance this season by capturing the individual title.
Daniels shot a 9-under-par 207, eight strokes better than the second place finisher.
"Jenna is a team leader every day and we know nine times out of 10 she's going to play great," McCorkle said.
Daniels attributed her - and the team's - success to the confidence and chemistry the team has.
"This team really meshes well," she said. "You have to have team chemistry to win national championships. We somehow know we're going to win."
After Daniels, who carded rounds of 68, 71 and 68, senior Christina Monteiro and freshman Julia Kraschinski finished tied for 13th at 6-over-par. Montiero shot even par yesterday to move up from 30th place. Kraschinski also had a good final day, as she shot a 1-over-par 73 to move into the 13th slot from 25th.
The scary thing for the rest of the country might not be that No. 1 Arizona is playing so well, but that they could be better come May 24 at the NCAA Championships in Oregon, where Arizona finished fourth last season
"For most of us, there are still a lot of opportunities that can be taken advantage of," Kraschinski said.
Kraschinski agreed with Daniels that the team's mental focus allowed them to stay poised in the final round.
"I don't know what it is about the last days. We just seem to go out there with the attitude that we can't lose," she said.
Sophomore Cristina Baena finished tied for 32nd with a 10-over-par 226. Senior Jill Gomric ended up tied for 35th after posting rounds of 5- and 6-over par on the tournament's final two days. She shot even par on Friday.
Arizona State (11-over-par), New Mexico (25-over), Southern California (28-over) and San Jose State (32-over) rounded out the top five.
The Wildcats now have two weeks to prepare for the Pac-10 Championships in Eugene, Ore. on April 24-26.