Dean of students to update code of conduct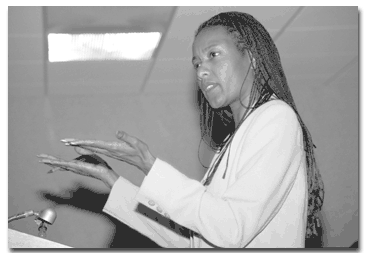 Gavin Stevens
Arizona Daily Wildcat
Associate Dean of Students Veda Hunn addresses the ASUA Senate regarding code of conduct changes last night in the Memorial Student Union. A sexual misconduct provision has been added to the Code of Conduct.
New provisions include sexual misconduct, gambling, expulsion
UA's code of conduct may soon include provisions on sexual misconduct, gambling and expulsions, a dean of students' representative said last night.
Veda Hunn, assistant dean of students, presented the proposed changes to the ASUA Senate at their meeting last night.
Hunn will meet with deans from Northern Arizona University and Arizona State University to discuss the student input.
In the draft, sexual misconduct - defined as "engaging in sexual misconduct, including but not limited to engaging in such misconduct with a person who has not given consent or who is legally unable to consent" - is listed as a prohibited act.
Sen. Tiffany Podbielski said the provision is too broad, and she does not think the university has the means to investigate allegations such as rape.
"Since in most cases of sexual misconduct, it's something that happens between two people, how can the university determine what happened? Rape is a serious allegation, and I don't think the university has the means to investigate it," Podbielski said.
Hunn said the process used by the Dean of Students' office to investigate violations requires enough evidence to determine whether a misconduct has occurred.
Documentation, witnesses and any contribution is involved in any code of conduct investigation - including sexual misconduct - Hunn said.
Podbielski insisted that sexual misconduct should be better defined.
"I could regard someone bumping into me as a sexual misconduct if I took it wrong," she said.
Hunn said the deans are hesitant to define sexual misconduct because it raises the level of investigation the university has to do - for instance, forensic evidence might be required.
Podbielski said she was in favor of raising the level of investigation to ensure that a person who did not commit a violation would not be punished.
Sen. Shane Brogan said the definition of sexual assault needs to be less specific.
He said he has faith that the deans won't expel someone without proper evidence.
Another provision states gambling is "prohibited by law or university policy."
Currently, if a student is expelled from one of the three state universities, the student is still allowed to apply to the other two universities.
The new expulsion provision kicks a student out of the state university system.
"If you are expelled from U of A, you are not able to attend NAU or ASU. You are expelled from the system," Hunn said.
Hunn said the argument for that is "if your university doesn't want you, why should we?"
Executive Vice President Ben Graff suggested a person who is expelled should face a committee made up of representatives from the three state universities.
Those representatives can then determine whether the student's violations were a build-up of small violations or if the student will actually put others in harm if allowed to attend the other universities, Graff said.
Hunn said the input from the students is vital before making code of conduct changes.
"It's very important (to get student input) because it will be affecting students," Hunn said.
After Hunn meets with the other deans next week, she plans to revisit the Senate with the committee's revisions.
Hunn said she hopes that by next semester, the university will have a revised code of conduct and disciplinary procedures.