Big changes for Spring Fling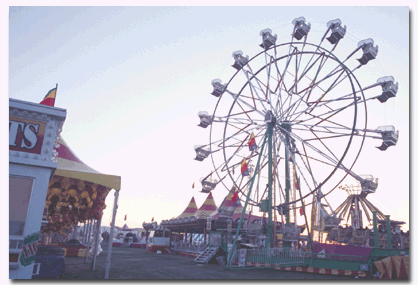 Amy Winkler
Arizona Daily Wildcat
The Ferris wheel stands above the Spring Fling grouds yeaterday at sundown. Spring Fling starts today at 4 p.m.
Annual carnival moved off-campus; will feature free admission, new attractions
Spring Fling starts today with a new location, new attractions and a bigger budget.
The student-run carnival was forced to change locations due to construction, and Saundra Taylor, Vice President Campus Life loaned the carnival $46,000 from her budget.
Craig Haubrich, executive director of Spring Fling, said carnival profits are expected to repay the loan.
"We have to pay it back if we make it back," Haubrich said.
Spring Fling is given an annual budget of $190,000 whether the carnival makes money or loses money, Haubrich said.
The carnival was given more money this year only because of all the additional costs incurred by the event's relocation, Haubrich said.
Spring Fling this year will be held at Rillito Downs, 4502 N. First St., because of construction on the Integrated Learning Center.
Allstate Pony Express will provide transportation from campus to Rillito Downs starting one hour before the carnival opens and will provide rides every hour until an hour after it closes.
This year, the directors of the carnival had to worry about adding extra security, in order to abide by Pima County regulations. The event also boosted advertising because of the new location, Haubrich said.
This year, 87 clubs are participating in Spring Fling, nine more than last year, Haubrich said.
"There was a greater interest this year," Haubrich said.
He attributed more club participation to the excitement over the new location and free admission.
The clubs and organizations have a choice to sell pizza, soda or run a game booth provided by Spring Fling, or they can get a sponsor on their own, Haubrich said.
The problem with going with a sponsor is that usually the sponsor will give the organization a certain amount of products for the weekend, Haubrich said.
If the organization does not sell all of the given products, sometimes the sponsor won't take the product back and the organization has a direct loss, he added.
The overall profits made by the pizza, soda and game booths provided by Spring Fling are split between all the organizations with no overhead, Haubrich said.
Spring Fling takes 15 percent of all profits made by all the clubs to cover club expenses.
Last year, the clubs made about $43,000 after bad weather caused Spring Fling to be cut two days short, Haubrich said. The year before that, clubs made about $80,000.
"This year I wouldn't be surprised if they break $100,000," Haubrich said.
Along with the new location, Spring Fling will also offer free admission.
Haubrich said free admission should attract more people, so organizers do not think they will lose any revenue.
Also new to this year's carnival will be the extreme sports attraction.
Three professional athletes from California - one in-line skater, one BMX bike rider and one skateboarder - will be performing on a 24-foot half pipe four times a day, Haubrich said.
Local bands will also be featured every day, he added.